Primaryfxmarkets investment review: is primaryfxmarkets legit or just scam? Make sure to read this primaryfxmarkets  investment review to end

primary fx markets is forex brokerage firm founded by acclaimed experts. Today we see increase in number of brokers, this cause you more harm than good. If you are not lucky to pick up a good forex broker, you will lose your investment. Therefore, we urge you to trade with our recommended forex brokers for your sake.
Primaryfxmarkets was founded in 2019 by unknown personnel. However they claim to be the best and as well regulated. But we are sure, they are not for your success. Everything about the broker is not real but fake, so they only want your money. Though we would like to tour the website to see what they are up to. However, as we move, we are recommending that you check virtueforex broker review.
Primary FX Markets Account Types
The most scary part of the broker is the account types they offer. However in the process of primaryfxmarkets review; We visited the site and checked if they have good platform that worth those account. But unfortunately, they just made sure they squize out something tangible from you.
Therefore all we are trying to say is that they are scam with this account types. The account types are:
MICRO: This is the lowest account size, the minimum deposit is €500. Spreads start from 0.05 on crude oil, to 6 on DJ 30. There's dedicated accoun manager and market analysis.
Silver Account: silver account is regarded as most popular. The Minimum deposit is €1000, while there's a spread up to 0.04 on crude oil and 5 on DJ 30. It equally gives you access to desktop and mobile trading. Daily market analysis and personal success manager.
Gold Account: most recommended by the broker with minimum deposit of €10,000.
Spreads on crude oil start from 0.03 to 4.5 on DJ 30.
Platinum Account: Very high minimum deposit up to €50,000. Spreads starts from 0.03 on crude oil and 4 on DJ 30.
All features available on this account include 24/7 customer support.
Exclusive Account: Highest level of account types available. The minimum deposit on this account is £100,000. Spreads on crude oil is 0.02, while DG 30 is 3, however all features is available in this account type.
Trading Platform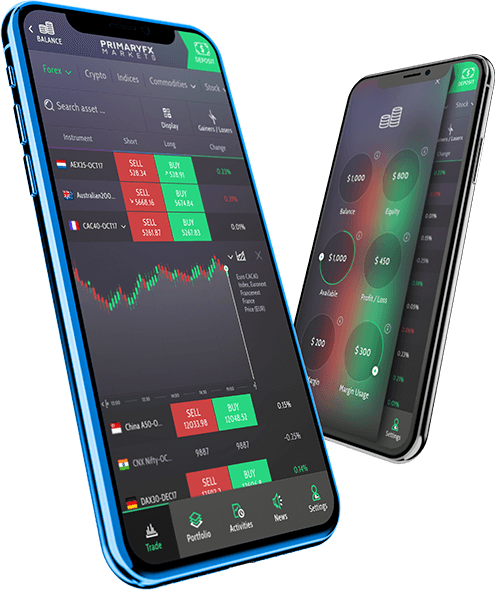 Primary FX Markets offer no trading platform. Just like we said above that we will not say bad until we see it. Well this is what we just saw while writing primaryfxmarkets review. They only offer investment platform. Therefore then company is an investment platform.
They use PAMM account to cover up their scam strategy but they are just waiting for you to invest big so they will close the website. However we wanted to review them like other broker but there's no need for that. As all we could get was not but fake information.
How Does The Pamm Platform Work?
It is clear investment platform for those that wants to invest in CFDs. However if you decide to invest with them, you just have to choose account type and register. Then make a deposit according to your account size. After that, just wait and their system will do the hard work.
However you recieve just profit weekly on monthly. According to their description, Based on its own technology, PrimaryFxMarkets will automatically match sell trades of investors with buy trades of other clients, at same Ask price, and will match their buy trades with sell transactions of other clients, at same Bid price.
As a result, the investor acts as a liquidity provider similar to institutional market participants on the SWFX. With this service, PrimaryFxMarkets gives you the possibility to get a share of their income. Due to the high frequency of trades in the network, liquidity providers are able to capture half of the spread on their trading volume.
Is Primaryfxmarkets Legit
Is primaryfxmarkets legit or scam? Well with the above results, you need less answer. But to clarify you, primarfxmarkets is not legit. It's a pure scam investment platform. We strongly advise that you stay clear off the broker. They don't offer any trading platform no trading opportunity.
They only promise bogus returns that will attract bogus investment. Meanwhile if you invest with them, the will close the website and open another website to track you. So our suggestion is that you don't visit the website and don't register with them.
Avoid primaryfxmarkets.com from now, however if you want to invest in forex managed account go for worldmarkets.
Is Primaryfxmarkets Regulated?
Is Primaryfxmarkets legit and reliable? The broker is obviously not regulated no have any registration number. In fact they have no location, therefore we can't even trace them. The people behind this platform is not revealing their identity. Try as much as possible to stay away from this broker or what ever they call themselves.
PrimaryFxmarkets Investment Conclusion
Finally we will conclude our primaryfxmarkets review by telling you to stay away from this platform. They are scams and will scam you if you try opening account. however if you are looking investment platform or were to copy experts. Please follow this link and copy professional traders. More-so if you trade binary option or forex, we suggest iqcent for you. So trade with them and avoid scams like globalspotfx. But please avoid primaryfxmarkets investment at all cost.