MineWealth.io Review: Is MineWealth Legit Or Scam? Find out today by reading our review. Investing without proper knowledge might be difficult to withdraw your funds in fake mining platforms.
MineWealth.io Review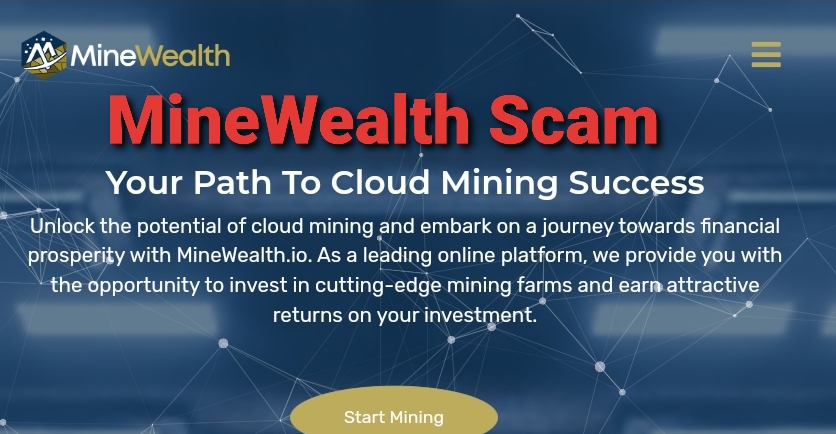 Minewealth is a cloud mining platform that allows investors to make money online. You can start mining bitcoin, ethereum etc by just creating account and investing. According to their platform, there's no hard work and no restrictions on mining power. Minewalth firm was founded recently by group of people with no proof of existence. however they claim to have long experience with their hardware and mining services. Should we agree to this? Well to me i will investigate this platform shortly.
Minewealth is a platform that is built with intuitive interface. Mine Wealth as said allows you to unlock the potential of cloud mining and embark on a journey towards financial prosperity. As a leading online platform, they claim to provide you with the opportunity to invest in cutting-edge mining farms and earn attractive returns on your investment.
However this website looks like other mining sites we have comfirmed to be scam. We will list all fake site this week. Read more about cloudhashes.com review.
Mining Plans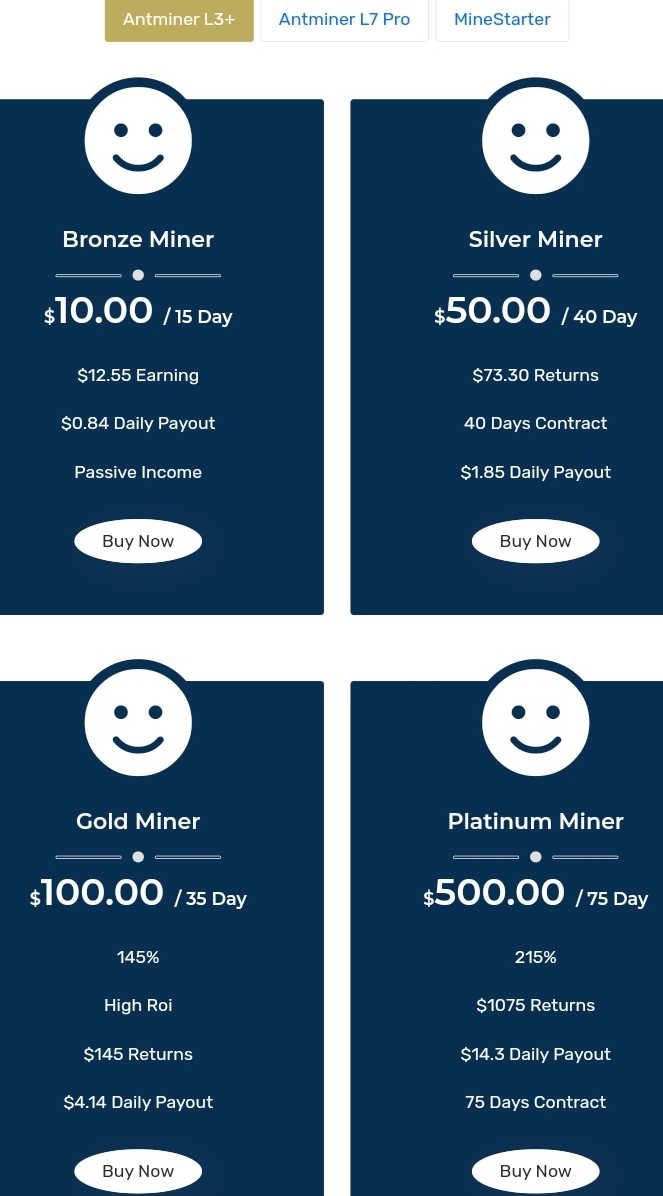 MineWealth have so many features and plan and we will list few right now. However all the plans come with great advantages and high returns. Therefore mine wealth have Antminer L3+, Antminer L7 Pro and MineStarter. This is grouped into this this three plan to suit investors with low and high investment plan.
Minewealth Antminer L3+
Bronze Miner: This plan is available on Antminer L3+ $10.00 / 15 Day. However the total earnings is $12.55 and $0.84 daily payout to complete after the contract expires
Silver Miner: This package is under Antminer L3+ and cost $50.00 / 40 Day. With this plan, you get $73.30 Returns after
40 Days contract with $1.85 Daily Payout.
Gold Miner: This plan is the best plan with purchase price $100.00 / 35 Day. Therefore it comes with 145% profit and considered as high ROI. That's $145 returns after the contract and $4.14 daily payout.
Platinum Miner: This miner cost $500.00 and last for 75 days. However it comes with 215% ROI and that's up to $1075 returns. With this contract, you get $14.3 daily payout and its a 75 days contract.
Minewealth Antminer L7 Pro
Diamond Miner: This plan is under Antminer L7 Pro and cost $5,000.00 / 15 Month. However it offers 15 months
High ROI and 970% APY. Therefore you get $48513 Returns after the contract and the daily profit is $108.
Emerald Miner: This is the second miner of Antminer L7 Pros and it cost $50,000.00. It's a 18 Month with up to 1270% APY
540 Days and in total $635000 Returns. The daily mining profit is $1175.9 and no mining fees.
Minewealth MineStarter
Mine Starter: This is the third mining engine with $5.00 / 300 Day 150% APY. You earn $12.5 daily by choosing this plan. Low Hash, Low income, Starters
Is MineWealth legit or scam?
MineWealth is not legit? The platform is built with intuitive interface and high quality performing power. Yes but we have linked them to old scam of h2hash and others.
In the process of our MineWealth review, we noticed that mine wealth are not legit and reliable. Therefore we cannot recommend them or even invest with them. To start mining bitcoin profitably go for a reliable platform that WORKS.

MineWealth.io is a new mining platform that was recently founded on 2023-06-12. This platform is also known for changing from one nature to another. However mine wealth are group of falls mining practices and they change their platform with new look and new name after every 3 months.
Support service
MineWealth does not offer good support service in any way classical. Therefore in the process of our MineWealth review, we checked phone number, address provided, email and contact form. However all this option for contacting them seems abortive. The location link is not loading or taking us to any place. Secondly the mining they don't have address and the email only work at the point of deposit. If you want to start withdrawing, you might not get response. Please you must be careful with this platform and avoid scam.
Conclusion
Finally we will conclude our MineWealth review and rating by telling you that they are not legit. MineWealth is a complete scam from pit of hell. If you invest with them, you might lose your investment. To start mining bitcoin, ethereum, ltc and more, go for bitcoin-mining. Invest and have good returns with our recommended platform. From all analysis, many platform in cloud mining are use to scamming investors, i advise that you consider reading more review from our company before investing. Compare MineWealth.io with minersy