Binarymate Review
24/7 Customer support, Low minimum Deposit, Binarymate Bonus and instant withdrawal
Details
| | |
| --- | --- |
| Broker | Binarymate |
| Website URL | https://binarymate.com |
| Founded | 2018 |
| Headquarters | Trust Company Complex, Ajeltake Road, Ajeltake Island, Majuro, Marshall Islands |
| Support Number | +442080685335 |
| Support Types | Live Chat, Phone, Email |
| Trading Platform | Option |
| Minimum 1st Deposit | $250 |
| Bonus | Bonus |
| Payout | 95% |
| Free Demo Account | |
| Account Types | Bronze, Silver And Gold |
| Deposit Methods | Mastercard/debit card, Crypto, skrill etc |
| Withdrawal Methods | Mastercard/debit card, Crypto, skrill etc |
| Number of Assets | 100+ |
| Expiry Times | 30 Seconds |
| Types of Assets | Forex, Crypto, Stocks, Commodities |
| Option Types | Turbo Intraday Long-term. |
| US Traders Allowed | |
| Mobile Trading | |
| Tablet Trading | |
| Overall Score | 6 |
Pros
24/7 Customer support, Low minimum Deposit, Binarymate Bonus and instant withdrawal
Cons
Not Regulated, No Free Demo
Binarymate Review 2021:  Is Binarymate Legit Or Scam? Find Out In This Article.
Trading has become so popular nowadays that people are choosing to focus on it rather than have to go to their nine to five jobs. This is understandable because trading can be done in the comfort of your own home.
To jumpstart your career as a trader, you have to choose the right broker that has everything you need to know. In this review, we will be focusing on one of your potential brokers, binarymate. Here in our review, you will get to know the company as a whole and read about its features and how it works.
Binarymate Review 2022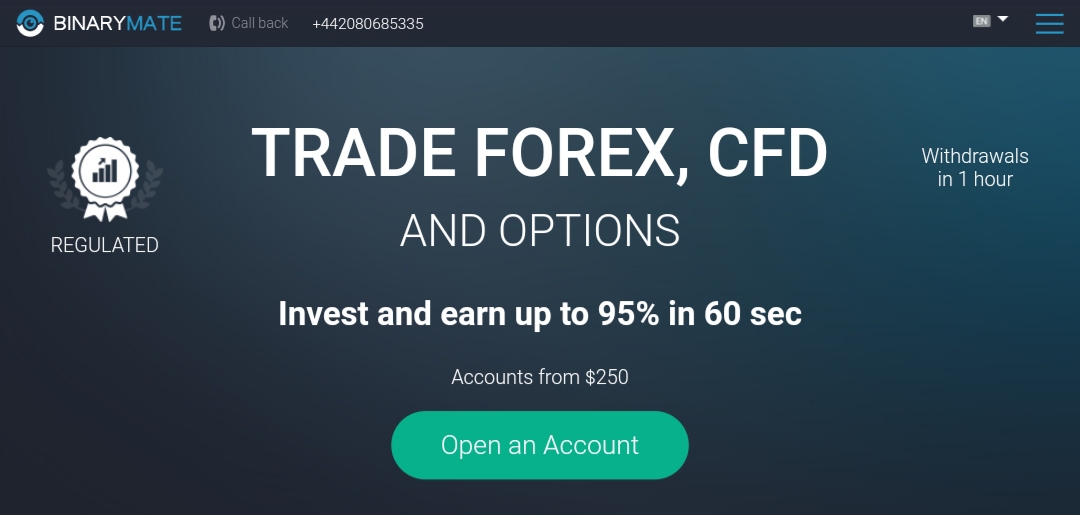 What is binarymate? – The broker presented binarymate is a broker that specializes in forex, CFD, and options trading. With over 100 assets available, clients gain a broader exposure to the market, and this can help diversify their portfolios. This broker's platform is available on any device, which allows both newbie and professional traders to access it anytime, anywhere.
This  BinaryMate broker was created in 2017 and is operated and owned by INVOLVA CORP, and they are registered in the Marshall Islands (Nr. 104693). Binarymate main office is located in Trust Company Complex, Ajeltake Road, Ajeltake Island, Majuro, Marshall Islands.
Since its inception, binarymate has gained over 5,000 clients from around the globe. They also boast of a trading volume of over $4 million and a total of more than $450,000 payouts to traders.
(Risk Warning: Your capital can be at risk)
Is BinaryMate Regulated and safe for users?
According to the website, binarymate platform claims to be regulated. But there is no evidence to back this claim. This is why traders should treat this broker as an unregulated platform and must be extra careful when trading with them.
However, in the process of our Binarymate Review we notice that the broker is SSL certified. This means that all your personal data, as well as bank details, are safe from hackers.
Regulation note
binarymate is an unregulated trading service based in the Marshall Islands.
Trading conditions for users
So, the next question is: What can binarymate offer for its clients? We will discuss this in the next sections.
BinaryMate On Review On Fees
According to the website and binarymate customer support representative, they do not charge any fees. However, upon asking about their commissions and profit share, the representative didn't respond anymore. There's no additional information regarding the commissions or profit share found on the website.
BinaryMate Assets and leverage
The following assets are available. With binarymate you can trade digital options and CFDs on one platform.
Options
Binarymate broker offers four asset classes for options trading. These are currencies, commodities, cryptos, and stocks. Below is a list of these assets. Additionally, since options trading is already considered high risk on its own, clients are not required to trade with leverage.
BinaryMate Review On Currency pairs
USD/CHF, EUR/USD, USD/JPY, USD/CNH, CAD/CHF, CHF/JPY, GBP/USD, EUR/NZD, AUD/NZD, EUR/AUD, USD/SEK, EUR/GBP, EUR/CAD,
AUD/JPY, NZD/USD, GBP/CHF, AUD/USD, USD/RUB, USD/CAD,  EUR/JPY,  EUR/CHF, GBP/JPY, AUD/CAD, GBP/CAD, GBP/AUD, AUD/CHF
Commodities
Gold, Silver
Crypto
Bitcoin, Zcash, Ripple, Monero, OmiseGO, Litecoin, Ethereum, Ethereum Classic, EOS, Dash, Bitcoin Cash, IOTA, Stocks, Lufthansa, Deutsche, Daimler, BMW
CFD and Forex
The asset classes as CFDs offered by Binarymate are currencies, commodities, crypto, indices, and stocks. You'll find a list of these below. However, when it comes to stocks, there are over 50 CFD stocks available. Some of the most common stocks found on the platform are Apple, Starbucks, Tesla, and Apple. For forex, you can expect to find the seven major currency pairs along with minor and exotic pairs.
Clients can use leverage in trading these assets. For forex, index CFDs, and commodity CFDs, the leverage can reach up to 1:500. For cryptocurrency CFDs, leverage is 1:10. Lastly, the leverage for stock CFDs is 1:100.
CFD trading with BinaryMate
Commodities and CFDs:
Gold, Silver, Copper, Brent Oil
Cryptocurrencies and CFDs:
ZCash, Ripple, Monero, OmiseGO, Litecoin, IOTA, Ethereum, EOS, Ethereum Classic, Dash, Bitcoin, Bitcoin Cash
Indices as CFDs:
US-TECH100, USA500, USA30, HONGKONG50, UK100, SPAIN35, SWISS20
(Risk Warning: Your capital can be at risk)
Test of the BinaryMate trading platform: How good is it?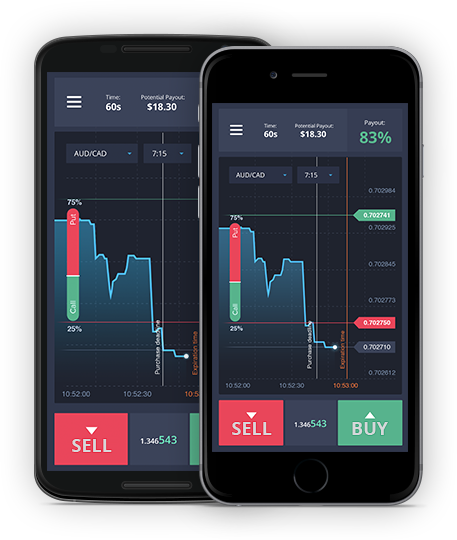 Binarymate doesn't require its clients to download any kind of software to use its platform. Their platform is web-based and can be accessed by using any kind of browsers, such as Mozilla Firefox, Google Chrome, or Microsoft Edge. Since clients do not need to install anything on their personal computer, this saves them the risk of being infected by a malicious virus that might corrupt their operating system.
To access the trading platform, clients simply need to log in to Binarymate website using the email and password that they used upon signing up. Once you've logged in, you will notice that everything you need for trading will be on this web-based platform.
Important financial tools can be located on the top left of your trading platform, and account tabs will be on the top right. Immediately below this, you will be able to see recent profitable trades that have been made by other clients of Binarymate broker.
For trading, your charting software will be on the center of the screen, a list of tradable asset classes and their respective assets will be on the left-hand side while orders can be set and made on the right-hand side.
At the bottom of your trading platform, there is a table that would feature open, closed, or pending positions that have been executed by the system. All details listed here are vital for backtesting, portfolio management, and trade review. Subsequently, users can also view which trades have been profitable to them.
Options Charting
By default, first-time users will be greeted with a tick chart that features options trading with an asset's price movement every second. This can be used by seasoned options traders to take advantage of the small movements of an asset. These assets could be forex pairs, commodities, cryptocurrencies, crypto pairs, or stocks.
It's a simple chart but is effective when used since it also features a gauge for the demand of puts and calls for an asset. This could be used as a guide to know if you're going with the trend of a trade or against it.
Furthermore, clients will notice that there is a timer on top of the chart. This timer is a countdown for options expiry times and is particularly useful when you're anticipating a quick, profitable trade.
Options traders will also be glad to find out that they could switch to candlesticks charts which will be discussed below.
Notice:
You can switch between candlestick charts (from
tradingview.com
) and normal line charts.
Review On CFD and Forex Charting
For CFD's and forex, clients will also immediately have access to Binarymate charting software that is fully customizable. Their charts are powered by TradingView, the leading application for all your charting needs. With this feature, clients can trade like a professional.
Charting for CFD's and forex will be in Candlesticks and can be further customized into Bars, Candles, Hollow Candles, Heikin Ashi, Line, or Area charts. Time intervals for charts can also be changed into five different time frames, which are 1m, 5m, 15m, one h, and 1d.
Review On CFD and forex charting
Since Binarymate clients are also partners of TradingView, they gain more access to indicators such as the popular Ichimoku Cloud Trading System or the regular simple and exponential moving averages. Further chart customizations can also be made for its style, scales, background, and timezone to fit your preferences.
Furthermore, tools can be found on the bar on the left of your charting software. These tools will allow you to draw patterns and mark significant price points that you can use for your trades.
How To Access Drawing Tools
Here, you will have access to drawing tools that allow you to employ Fibonacci-based techniques as well as harmonic patterns. Measuring tools can be found here as well and will be used if you want to measure your risk or probable gain.
You can also add text to the charts if you wishes to. By clicking on your text options, you can add anchored texts, notes, callouts, and price labels to keep notes for trading.
By accessing TradingView's full version even while using the one on Binarymate platform, you will be able to save new charts or even load existing ones for convenience. All your data is stored in your Binarymate account so that you don't have to add all your drawing tools again.
On the bottom-right corner of your trading software, you will be able to change and set your charts from a linear price scale to a log scale. Some traders, however, use percentage scales, and clients will also be able to use this.
Chart Data
Chart data used here also showcases historical data that dates even as far back as the time that a certain asset was introduced to the market. This allows for easier backtesting and price analysis.
Clients can also take screenshots of their charts by navigating towards the top left portion of Binarymate platform and accessing Charting Tools. A new link will pop up, and clients should click on the Take a Snapshot button on the top right portion of their screen, or they could simply enter the hotkey for it, which is Alt + S.
When trading CFDs and Forex, Binarymate clients will be able to select from 5 different asset classes that include currencies, commodities, cryptocurrencies and crypto pairs, indices, and stocks. Compare broker with
binarycent
broker.
Review On Binarymate mobile app
Binarymate mobile application functions the same way as its web-based platform. Here, you can trade all the available assets and even withdraw and deposit at a click of a button. This makes it convenient, especially for clients who don't have the time to sit in front of a computer all day.
This is 100% free, available for Android and iPhone users, and you can download the app from the Google Play Store and Apple App Store.
How to trade with Binarymate broker: Trading tutorial
In the next section, we will show you exactly how to trade options and CFDs on the Binarymate platform.
Review On Options Trading
Once logged in, the first thing you should do is confirm whether you are using a real or live account. Next, you should decide whether you will trade options or CFDs and forex.
For options trading, you will notice that you are not able to trade indices and are limited to only forex, commodities, stocks, and cryptocurrencies. To trade options, you must learn the basics of what a binary option is and the definition of the common terms such as put and call.
Trading this asset derivative is slightly different compared to regular trading but is considered to be higher risk, but it also gives more reward for a successful trade. Additionally, whether it's going long or short on puts and calls, the expiry of your option will greatly influence your trading strategy.
For options trading, you will notice that there are different order types that depend on the expiry date of your chosen option.
The three options are
Turbo
Intraday
Long-term.
Turbo allows clients to set trades that expire within the next 30 minutes, while Intraday orders expire when the day ends. On the other hand, clients may choose to execute Long Term positions that expire within the next month.
After setting your order type, you should set the corresponding expiry time and date of your option. Subsequently, you could turn on Binarymate Fix Time mode to properly time your trades.
Afterward, you should allocate the proper amount for the trade you want as well as enter whether your trade will be a call or a put.
All trades that are pending or have been opened or closed will be listed down on a table below by Binarymate system. This table will function as your portfolio and trading history. This contains details such as the asset traded, its strike price, expiry price, start time, expiry time, order size, payout, and whether it's a call or put. Read more
rockfort markets
review.
CFD and Forex Trading
To trade CFDs or Forex, you need to select what you want to buy or sell from the list of asset classes and their respective list of assets. The assets you can trade here include currencies and CFDs for commodities, Cryptocurrencies and crypto pairs, Indices, and Stocks.
Once you select an asset, we suggest looking at its historical price first and do your research on this certain asset. It gives a huge advantage when traders know the recent economic news or even company background. Having this information lets clients know if a bullish or bearish trade is more favorable.
Forex and CFD trading
You must decide how much you're willing to risk and input your desired investment amount in the box provided on the right-hand side of your trading platform. From here, you could execute your order automatically by way of a market order.
Alternatively, you could set a limit order that allows you to edit your entry price, stop loss and take profit levels. This allows more control in handling your trades and could lead to more gains and fewer losses.
Keep in mind that by default, trades will always have a 1:500 leverage until changed. To change the level of leverage, it is best to contact Binarymate customer support representative.
Binarymate  Review On Copy Trading
Despite offering a lot of assets to choose from, Binarymate platform goes the extra mile to let its clients copy trade their other successful clients. Beginners and those who like passive investing may use this feature so that their capital will be put to good use.
With their copy trading feature, you will be able to see the top 10 traders of Binarymate and their respective profit percentages in the past months. You can allocate a set amount of investment with any of the top traders and wait until you are satisfied with your gain.
Review On How To Open An Account With Binarymate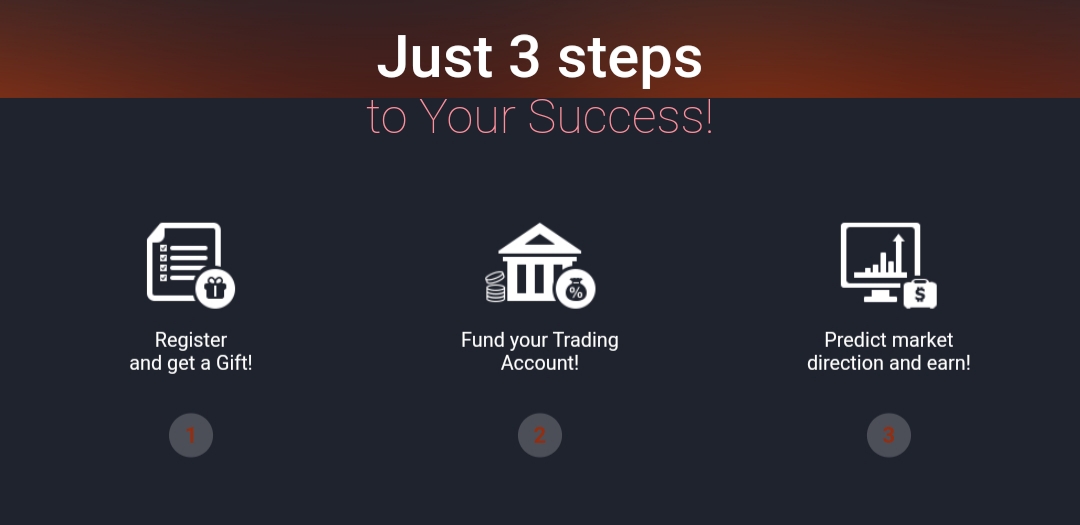 Binarymate broker registration form will ask for your full name, phone number, email address, password, and preferred currency. You can choose from US dollar, Euro, British Pound, or RUB. The form can be found on the main page of the website. Make sure to read the Risk Statement and Terms forms before you hit that sign-up button.
There are three account types that clients can choose from, Bronze, Silver, and Gold. Each of these accounts has its own perks and minimum deposits. They additionally give trading bonuses to account holders. The bonus depends on the account type and your initial deposit. Keep in mind, however, that this bonus can not be withdrawn. Instead, you can use it to trade or invest.
(Risk warning: Your capital can be at risk)
Binarymate  Review On Account types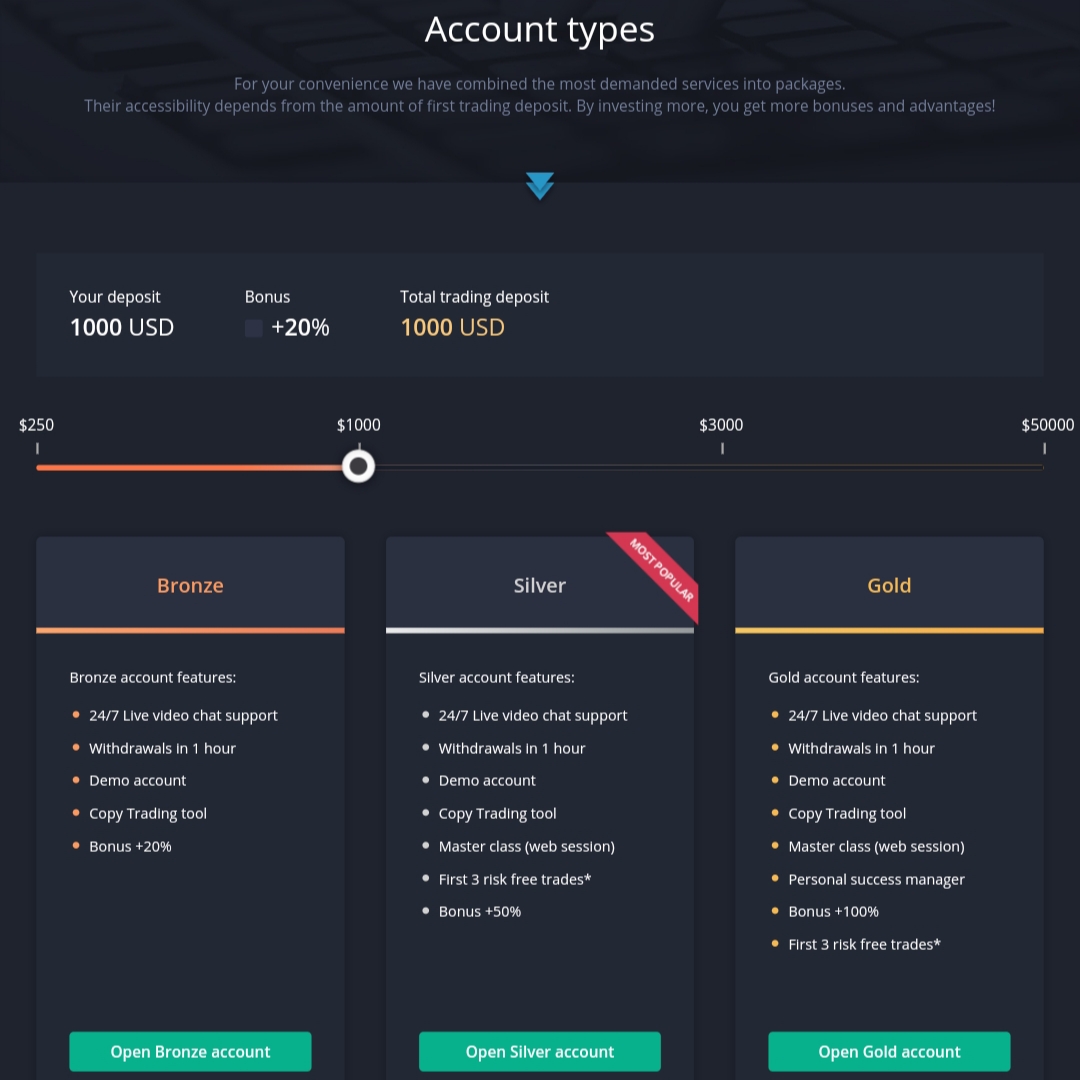 The Bronze account is the most basic account type. With a minimum deposit of $250, clients can access Binarymate 24/7 live video chat support feature, a demo account, and Binarymate copy trading tool. They give 20% trading bonus to Bronze account holders. This would give you a total of $300 if you deposited $250.
Silver: Binarymate Silver account entitles users to the same features granted to Bronze account holders, but they also gain access to a master class, which is a web session, and a 50% bonus. With the minimum deposit of $1,000 plus the 50% bonus, your total funds would be $1,500.
An added perk for Silver accounts is the client's first three trades are risk-free. This means that if the client loses money on their first three trades, they  will credit the losses back to their account as trading funds.
Gold Account: They equally give accounts access to the same features as Silver accounts. The only difference is Gold clients will have a personal success manager and a 100% bonus instead. The minimum deposit for this account is $3,000. Added to the 100% bonus, the total funds would be $6,000.
Binarymate  Review On Demo Account.
The broker demo account entitles all registered clients full access to its features and services. Here, clients can practice various trading strategies that they can use for binary options trading or for CFD and forex trading.
Using a demo account, Binarymate broker users won't risk their hard-earned capital. Instead, they will be using virtual funds provided by the broker. However, to be able to trade using the demo account feature, clients will need to deposit at least $250.
Notice:
The demo account is only available after a $250 deposit.
Your virtual funds will depend on how much you decide to deposit into your trading account. You can speak with a customer support representative to verify your deposit, and so they could open a demo account for you.
Binarymate  Review On Payment methods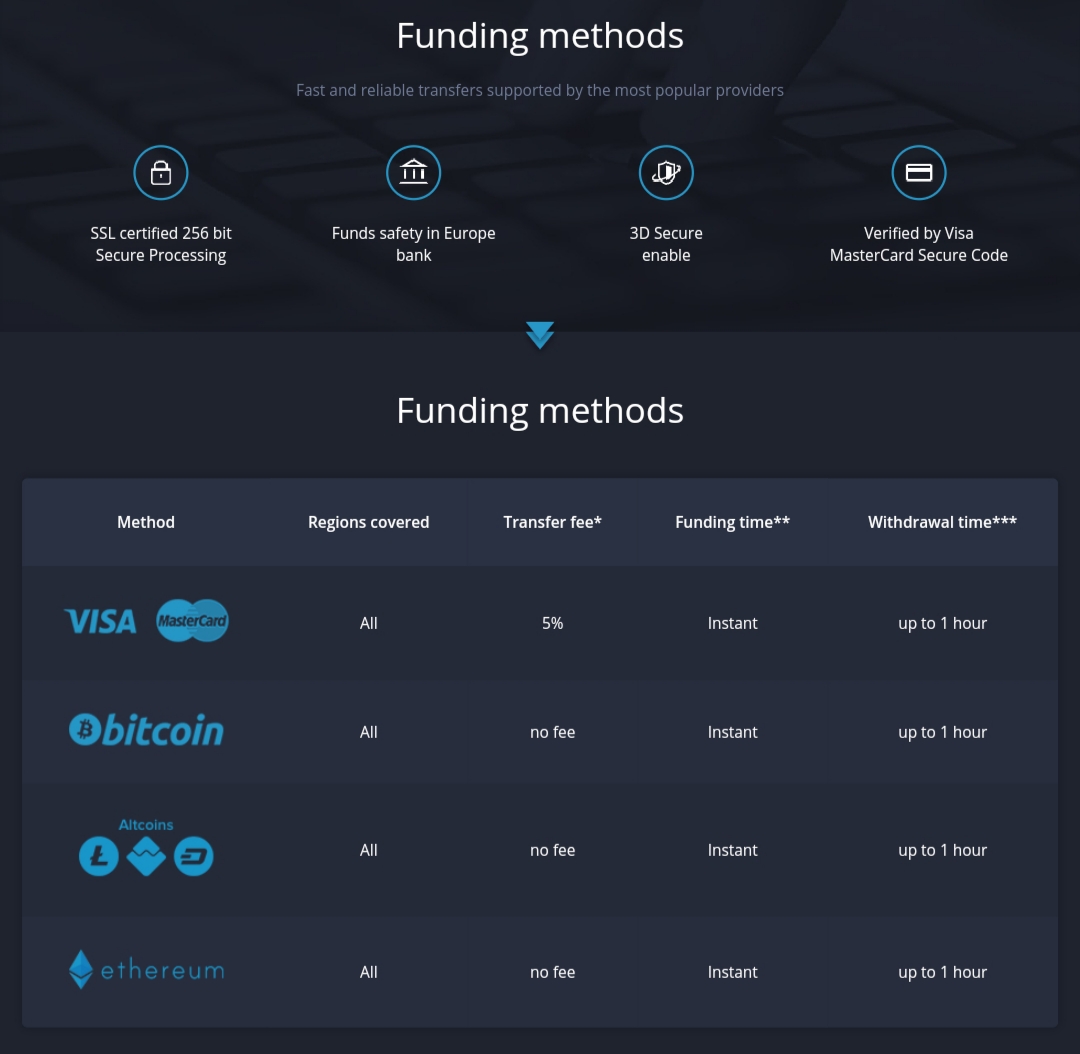 The broker supports numerous payment methods. These methods are Visa or MasterCard debit or credit cards, Bitcoin, Altcoins, and Ethereum. Funds will be credited to the account instantly, but it is worth mentioning that you might need to wait a little longer if you deposit during weekends or public holidays.
Although adding funds through Bitcoin, Altcoin, and Ethereum won't require you to pay additional fees, Visa and MasterCard transfers have a 5% fee. BinaryMate does not charge this. Instead, the credit card company does.
Available payment methods:
Credit cards
Debit cards
Cryptocurrencies
Deposit and minimum deposit on Binarymate broker
Depositing funds are usually instant so to ensures that Binarymate clients can start trading right away. As previously mentioned, the minimum deposit depends on which account type you want to open.
For a Bronze account, the minimum is $250. For a Silver account, you'll need to deposit $1,000. To open a Gold account, you need a minimum deposit of $3,000.
How to withdraw
Clients can withdraw their profit via the methods above. Binarymate makes sure to process the withdrawal request instantly, and clients will get their funds within one hour. Although, there might be a slight delay if you decide to withdraw during the weekend or public holidays. Keep in mind that the minimum withdrawal amount is $50.
Bonus
Binarymate broker is quite generous to registered clients. They give every new client 20 %, 50%, or 100% to start depending on their account type. The exact amount of the bonus depends on your initial deposit.
This broker also hosts giveaways on the website. Traders who enter the giveaway have a chance to win various gadgets that help make trading more convenient. Usually, the prices are tablets, computers, smartphones, or smartwatches.
Referral links can also be used to get additional funds. Simply share your link with a friend, and you can get 20% of the amount that they deposit. You can get your referral link from the "Referrals" tab.
Upon creating an account, Binarymate platform will welcome you with a promo code that you can use to get three to five risk-free trades. However, not all promo codes entitle clients to the same bonus. Also, these are time-limited promo codes. They usually expire after 45 minutes or an hour, depending on the time limit given to you. Make sure to read Binarymate terms and conditions before you use their promo code. Read
etoro review
.
Customer support and services
Binarymate broker has a live chat trading feature that is open to all their clients. Here, you'll have the freedom to speak to any of the online representatives. Binarymate representatives support multiple languages. You can see a full list of the supported languages on the drop-down box found in the chat window. Although you'll be sending messages on a public group chat, a private chat feature is available for registered clients.
You may also send them your question or concern by filling up the form found on the "Contacts" page. It'll ask for basic information like your full name, email address, and phone number. A customer representative will get in touch with you via email once they have processed your form.
For time-sensitive concerns, Binarymate platform has six different hotlines from different countries. Here are the numbers and corresponding countries.
Numbers
Russian: 7-499-7033774
Chinese: 3-395-0396
Thai: 02-21345671
Singapore: 965-65425142
Australia: 61-8-5550-7288
As an added service, Binarymate platform hosts trading contests every week. There is no registration fee, and as soon as you sign up and make your first trade, you will automatically be a part of the contest. They chose twenty winners each week to win various prizes. The top four traders get $20,000, while the rest get trading bonuses or gadgets.
They chose a winners the number of trades you execute each week. The more you trade, the higher you'll get in the ranking. You can see a complete list of winners in the past and active trades on the "Contest" tab. If you joined the contest, you could even check your rank anytime. See the why many traders use
videforex
broker.
Binarymate  Review Conclusion
Finally  we will conclude our Binarymate Review by telling you to open an account. The broker is not a scam but an unregulated trading service
The great thing about Binarymate is, they have a wide range of assets to choose from. This gives their clients maximum exposure to the different types of asset classes on the market. The deposit bonuses also help increase the clients buying power or working capital.
In the process of our Binarymate Review, we noticed  that it's generous when it comes to promo codes. Every now and then, they post promo codes on their Twitter or Instagram account, and they even give away codes as soon as you create an account. The trading contest also encourages clients to be more active in the trading scene, and the referral links give additional bonuses to you and your friend.
Binarymate broker makes sure that all their clients have what they need. There are video tutorials on how to use the platform so their clients can easily execute trades and navigate their way through the broker's system.
When it comes to this broker's customer support representatives, they are prompt to reply and are often able to answer queries and help with concerns. They support multiple languages to make sure that all their clients will be able to get the support they need.
Important
We found out in Binarymate Review that the broker is an unregulated trading platform.
Binarymate broker does come with a couple of disadvantages, however. One of these is their demo account. When traders come across the words "demo account," they expect it to be free. This is not the case with Binarymate platform. You need to make a deposit before you can even test out their platform.
Another problem is that it have a fix leverage. Some traders prefer to trade with less or no leverage at all. Fixed leverage is considered risky and inconvenient to some, if not all, traders. This broker is also not regulated.
In conclusion conclusion of Binarymate Review, if you are careful and know how to manage your funds properly, Binarymate can help you increase your profit. It is not a scam but an unregulated service. Read
icmarket review
Visit Broker