eToro broker Review
Launched in 2007, by a group of forex traders with likeminde. Their aim was to provide traders with suitable trading platform and conducive trading environment. Since then, they maintains the world best crypto and forex brokerage firm with so many awards…. eToro review comes with full data carefully read all
eToro's financial services are provided by eToro (Europe) Ltd. ("eToro Europe"), a registered Cypriot Investment Firm (CIF). The company's registration number is HE20058. eToro Europe is regulated by (CySEC) under license number 109/10. In the UK, eToro (UK) Ltd. ("eToro UK"),  company registration no. 7973792 is authorised and regulated by the (FCA), Under firm reference number 583263. eToro Europe and eToro UK both operate under and comply with the (MiFID). In Australia, services and products are provided by eToro AUS Capital Pty Ltd. ("eToro Australia"), ABN 66 612 791 803 is the holder of an; Australian Financial Services Licence pregulated under the Corporations Act (Commonwealth). eToro Australia arranges for its clients to be provided services by eToro Europe. In addition eToro broker is no doubt the largest crypto trading provider.
Etoro review full background
The broker has set their standards high, above other crypto broker. They have managed to us their new fintech to enhance traders knowledge there by making overall transaction easy; With faster execution of order.  The  broker came out before cryptocurrency and was dealing on financial services on a trading platform with graphs representing financial instruments and an intuitive interface. With that' they couldn't meet up with their plans to give you the best; The broker had to go on a long research and was able to lunched a webTrader. It was great, as traders where making a BIG open and close order. Etoro broker always put their traders first, therefore after the first platform they didn't relent in improving their trading tools; Their experts had to lunch another hit trading software that provides a social trading forum. In this case there's a clean copy trade, you don't have to trade blindly rather you are carried along with others or either, others are carried along by strategies.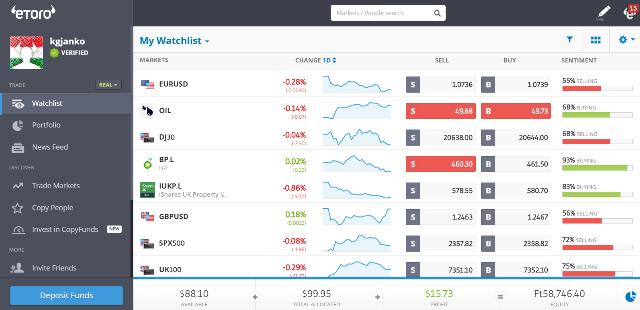 Features of the broker
Ngative balance protection
Copy or social trading platforms
Faster execution of order  with STP, as eToro trader; You have access to the trading floor of any particular stock market.
No Dealing Desk practics No intermediary, No interference.
Well regulated by FCA, CySEC and ASIC.
On leverages and margin, eToro offer up to 10%leverage on $1.000 investment,  with the margin ratio of 1:10.
Minimum deposit of 200
Well certifying customers support
Good for beginners and old as they offer education to traders.
Affiliate program
Referral program
Etoro offers different categories of club,  which gives you access to personal account manager.
Well Secured and well guided
eToro Review On Account Types
The broker made trading easy, thereby creating two types of trading accounts, which is ratial and professional account. Why they made it this way is because trader's skill are not equal so if you are a beginner, you will be operating racial account. But if you have gotten all it takes to apply fore professional account you will gain a lots of offer attached to it.
Features of ratial accout
Retail Clients receive access to all our trading assets and can both trade manually or Copy Trade (subject to suitability). While Retail Clients' leverage is restricted, they do receive certain protections such as coverage by the Investor Compensation Fund and recourse to the Financial Ombudsman Service. Furthermore, they receive negative balance protection and margin closeout restrictions.
Features of Professional Client
Elective Professionals are those who have successfully passed a test to determine their suitability to qualify as Professional Clients.
A Professional Clients waive certain ESMA protections such as the Investor Compensation Fund and recourse to the Financial Ombudsman Service. However, Professional clients have no restrictions on using leverage.
Negative balance protection – Although not required by law, in the rare occasion in which market conditions cause your account's balance to go negative, eToro broker will absorb the loss and balance your account – just like for a Retail Client account.
High leverage trading – As an Elective Professional you will be allowed to open positions with a leverage of up to 1:400 for certain instruments and receive a reduction in your current margin rates, allowing you to trade with more leverage, as opposed to the limitations imposed by ESMA on retail clients.
eToro review on platform
1 The unique features of eToro's platforms is unfamiliar with other brokers. While other brokers offer the same platform with etoro,  the different is very clear, that is to say that, you will get a high tech platform tools from eToro.  Since 2007 till date,  eToro broker has managed to ofree so many trading platforms. The broker has been at the forefront of online trading and has solidified its status as the world's leading social trading and investment platform. And even as of now they remain the same.
WebTrader
Formally, the broker was built as a trading platform that would make online trading and investing available to anyone, anywhere, as part of the growing fintech revolution. The founders set out to disrupt traditional trading, using an intuitive investment platform, which offers an authentic online trading experience. The platform grew quickly in popularity and became the go-to choice for many traders online.
 OpenBook
eToro was the first broker to introduce the concept of social trading to the world, that it truly rose above, and created a whole new mechanism of trading and investing online. Following the Web 2.0 revolution during the early 2000s, eToro realised the potential of harnessing the wisdom of the crowd for online trading. A whole new trading platform called OpenBook was created, with its social infrastructure that enabled clients to connect with other investors within the eToro network and tap into their collective wisdom. this platform was an edge to all trader in eToro
4  2015 Era with eToro platforms
2015, was an amendment season of eToro two trading platform. In order to serve you better, eToro has joined the two trading platform, known as WebTrader and OpenBook to create the  new platform know as trading & investing platform
The current eToro trading platform is the culmination of the continuing effort to make online trading a unique and intuitive experience. The platform offers cutting-edge financial technology, such as the CopyTrader™ system, Popular Investor Program, and CopyPortfolios™ investment strategies, the latter which presents a giant leap forward in the field of investment and wealth management.
Mobile Trader – eToro's Mobile Trading App
At first, each of eToro's trading platforms (OpenBook and WebTrader) had a separate app. With the new the broker, a single trading app was created, making all of the platform's features available using an intuitive interface. eToro's new mobile trading app, available for both Android and iOS devices, is the perfect way to stay connected "on the go" and make sure you never miss an investment opportunity. Using ther trading app, you can manage your portfolio, follow markets, copy traders, and perform any action available on the platform from your smart device.
Your go-to online broker
Choosing their ading platform, or their app, as your online brokerage service provider, presents you with a multitude of options for your trading and investing needs. As your online broker, eToro broker will provide you with many of the brokerage services available through a traditional broker, on an easy-to-use, intuitive trading platform, available both on the web and as a mobile app.
Customer support
The customer service are well skilled to know the area traders are lacking in terms of during trading. They have gathered all this possible question and put suitable answer to that; So you can use their self help center section, or create a ticket.
Conclusion
Finally our eToro review took two authentication step to get them verified. During the verification process we noticed that they are far more than what reviewers are saying. We equally noticed that they don't have live chat, we tried our best to find junks but to no avail. We now decided to kick off for this review.