What Are Non-Fungible Tokens (NFTs)?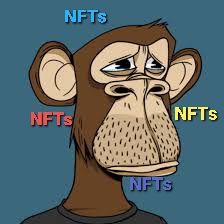 In this article, I will discuss what NFTs are, and  what NFT trading means. However their applications, critics, and trading sites. I will also discuss their future in the cryptosphere. And how to buy NFTs. This article is not intended to be a comprehensive guide to NFTs. I will cover some of the more relevant topics. But if you're looking for an introduction to the topic, I highly recommend reading the article below. Then you'll know everything you need to know about this new type of currency. See the benefit of investing in cryptocurrency today.
Non-fungible tokens
If you're not familiar with the concept of non-fungible tokens, you're missing out on a significant benefit of the blockchain technology. Non-fungible tokens are essentially unique digital identifiers that can verify ownership and authenticity of digital collectibles. These tokens are non-fungible because they can't be traded on a like-to-like basis. They can represent virtual land parcels, artwork, and other assets that need to be differentiated.
As the name suggests, non-fungible tokens are a type of crypto currency that can be created and stored on a public blockchain. These tokens represent verifiable, tracable items. They are minted using smart contracts that manage transferability and assign ownership. This process involves creating a new block on the blockchain and validating data in it. Further information is available online. There are many applications for non-fungible tokens in the art world.
NFTs Applications
The technology behind NFTs can make physical assets digital. They combine a tamper-proof blockchain with smart contracts to convert physical assets into digital versions. This technology can be used in various fields such as art and music, education, digital art, and sports. Through NFTs, artists, collectors, and businesses can connect directly and easily. NFTs also improve business processes and provide stakeholders with transparency on ownership and provenance of a work.
Apart from representing ownership of digital assets, NFTs can also be used in the real world. They can be used to ensure proper compensation for the creators and reduce piracy. They can also help create a market for physical assets by allowing individuals to monetize their work in unique ways. Currently, arts is the most prominent application of NFTs, but as the technology evolves, they can be used in many other streams.
NOTE
Do you wish to mine or buy NFTs? Are ypu interested in making passive income through cryptocurrency? We can assure ypu one thin😂😂😂, discord is the best platform to buy and sell NFTs. Iqmining platform is best for beginners on trading and cryptocurrencies mining. Start mining bitcoin with reliable platform. Iqmining is a mining company made up of a team of Professionals. They offer trading platform and mining services in technology and cryptocurrency.
The company offers differednt affordable investment packages. However maintains a consistent return on investment.The best part is that since we started investing; We have experienced fast deposits and timely withdrawal of our funds with no hidden charges. Iqmining offers best customer service that is fully functional. Withdrawal is daily.
Critics
While there is still a great deal of dissent regarding NFTs, Ubisoft executive Nicolas Pouard recently respond to criticisms of the company's "Digit" NFTs. He stated that NFTs have a number of benefits over the traditional touch screen, but critics of these technologies are not understanding what they offer consumers. Rather, they are trying to paint Ubisoft as an opportunistic cash cow.
As for the future of the industry, critics of NFTs say that they are nothing more than a speculative bubble. The current hype surrounding cryptocurrency has led some to warn that the market could crash as speculative bubbles pop. However, NFTs can be an invaluable tool in the end game, as Ubisoft hopes to provide players with a market for reselling items. Although these critics have a point, they are generally in the minority.
Trading sites
Involving yourself in NFT trading is relatively easy. Getting started is as easy as buying and selling NFTs on a dedicated NFT trading platform or marketplace. There are several of these sites to choose from, each offering their own unique benefits and features. Below are some of the best. Read on to find out more. Listed below are a few examples of NFT trading sites. All of these sites accept Ethereum as a form of currency. You can learn how to buy NFTs here.
Rarible.com is an example of a website that allows users to create their own NFTs. The platform has few hurdles and allows hobby artists to showcase their work. Nifty Gateway. This site has sold non-fungible tokens from famous musicians, such as Eminem and Mick Jagger. These NFT are called Nifties and are published using a drop process. Users can try again later.
NFTs Value
Several factors determine the value of NFTs. Various factors include the amount that the artist has already sold or paid for their previous work, the length of time the artist spent creating the work, and who collects it. Value of NFTs is also based on the market, so comparing them to other forms of art may help you determine the value of your NFTs. Listed below are some of the key factors that determine the value of NFTs.
Limited editions: As with any physical item, there are only a limited number of NFTs. For example, an NFT of "Mona Lisa" is not a true copy; the original is at the Louvre in Paris. Similarly, an NFT of Kevin Smith's Killroy Here will only have view of 5,555 people. Coachella, a music festival, uses NFTs as a way to sell tickets to concerts and other events. See our bitcoin mining sites. Read sharemine review and OXBTC before investing.