Meatec.io Review: Is Meatec Legit Or Scam? Should I invest with meatec. Well you have to read my review or find out by losing your money. Meatec is not legit but let's verify fast before investing. However there are some fake claims to look into just like BNBminers
Meatec claims to not experience seasonal fluctuations in the weather conditions, like they do in China fx. Where many co-location data centers experience floodings during the wet season.
These fluctuations in the weather forces them to migrate each year risking both the lives of the hardware, the co-location facilities but certainly also the workers. All of this is eventually reflected in the hosting price.
Meatec.io Review
Meatec is an ASIC & GPU cloud mining firm that was founded in 2019 by group of experts. They offer a rock-solid service based on European business ethics, German management skills. However Danish punctuality and due diligence mixed with Russian know-how and tech. Selling and hosting hardware for both the crypto enthusiast as well as 'mom n' pops' has never been easier and more accessible.
They offer you everything from a fully self-managed solution with VPN-access to our white-glove service, where you don't have to do anything but watch your interest grow on your mined revenue.
In terms of co-location data center.
Meatec uses green surplus hydro power from the rivers and dams in Siberia. Lake Baikal – the worlds biggest fresh water lake, that never runs dry – delivers all the power we need without harming the environment or local population in the process. Is mining hub 
Plans And Pricing
Meatec Offer a good cloud mining service with cheap cost or no fee. However the plan to choose from are few and affordable. Any miner can start with as low as $50 and that's interesting.
1. BTC Whatsminer M30++ – 720 Day Zero Fee Plan
720 days
from $99.91
Handling fee $0/TH/Day
2. BTC Whatsminer M30++ – 360 Day Zero Fee Plan
360 days
from $49.95
Handling fee $0/TH/Day
Is Meatec Legit?
Meatec mining is not legit, the platform is fake with nothing to offer. Therefore in the process of our meatec.io review we visited the platform and try to invest with them. Thus we realize that they are not legit Moreover investing with is known risk. Firstly we have checked the platform they offer and how it works. Meatec is probably a website that wants to defraud investors. Looking at the forefront and user review at trustpilot, the platform is fake. However MEATEC claims CONSTANT price, weather and co-location facility ALL year round – just like that. Well all this is to convince you to invest with them. If you finally invest with them, you might not get your deposit back. Read Freebnbmining review
Customer Support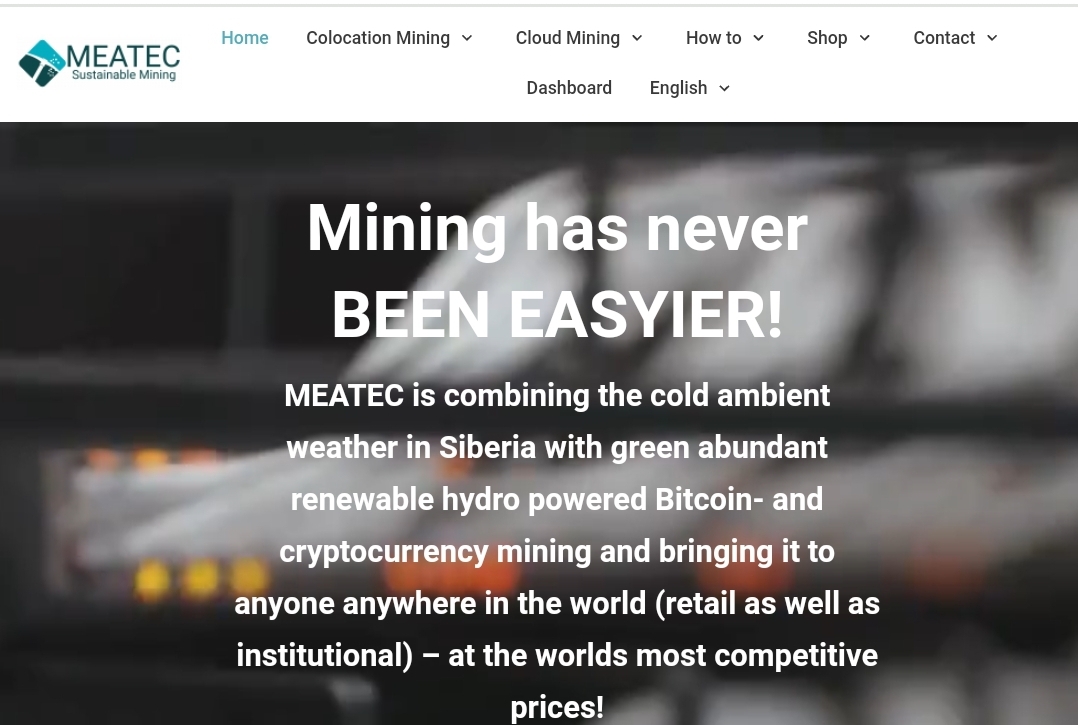 In the process of our Meatec.io review, we have noticed that they offer no customer support. Meatec in a cloud mining firm you will see on Google and think it's good. However when checking the platform platform it only have social media pages. The platform have no location based on our results and findings. Thus we would not recommend them for you to invest. Meatec is suppose to have livechat, phone number and email for support. However that's if they want you to succeed in the process. But the website is just there and nothing much to offer. Read easy BTC mining review and see if you can trust them.
Meatec.io Review Conclusion
Finally we will conclude our Meatec.io review by telling you to avoid them. Meatec is not legit and reliable. The platform is fake and comfirmed by their users at trustpilot. The trust score is very low, many users comfirm it to be scam. More-so we could not see reasons to recommend them. There is no support service and the platform have no location and founder. Therefore if you are to trace them because of scam then you might be tracing ghost. In that case, we will recommend another alternative for mining. BTC miner is a good cloud mining firm, start earning with less stress. Invest in Mining firm that you can trust invest and receive your rewards. Read sharmining review before investing.