Empirefxplus Review: Is EmpireFXPlus Legit Or Scam? Find out today by reading our review. The platform have good interface, however we need to verify that it's genuine.
EmpireFXPlus Review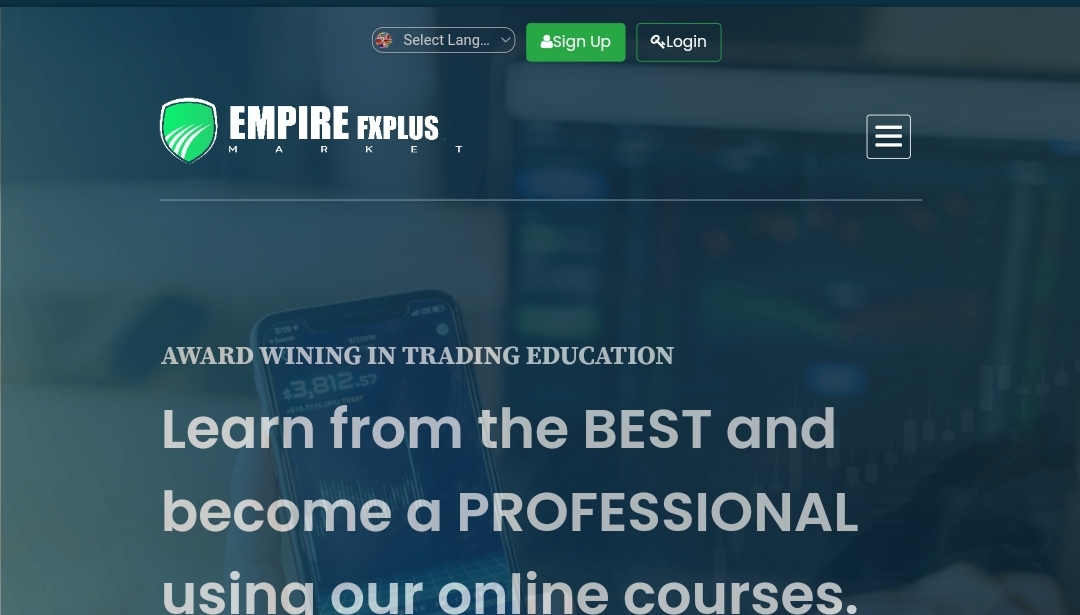 empirefxplus is one of largest forex and cryptocurrency brands. Empire fxplus International claim to make sure that users make the best trading and investment decisions. The broad range of services enable you to get the best guidance. You get advice and resources to build a richer future in checking. EmpireFXPlus is an online investment firm that aims to avail of multi-asset investment. Additionally, the broker introduces a website similar to others. However there are factors to consider before investing funds in any platform. As you read our impartial reviews on EmpireFXPlus, we highlight the murkiness it exposes. The red flags immediately make you reconsider the broker's investment decisions.
Account types
EmpireFXPlus offers miltiple accounts and trading conditions to users. On the forex accounts you can choose a package depending on your investment size. Therefore the account available are…
STARTER ACCOUNT: This plan have a minimum deposit of $500. The spreads is from 3.3 pips and Leverage 1:300, more-so you get support via live chart.
BASIC ACCOUNT: In this account, the minimum Deposit is $3,000, Spreads is from 3.3 pips. The leverage is 1:500 with live chart support and all available platforms.
BRONZE ACCOUNT: On bronze plan, the minimum deposit is $6,000 and preads from 2.2 pips. However, leverage is 1:700
with live chart support and you will have access to all available platforms and all education tools
SILVER ACCOUNT: EmpireFXPlus Silver account comes with minimum deposit of $20,000. The spreads from is from 1.5 pips and leverage 1:1000. You get live chart support and access to all available platforms. Access all education tools and technical analysis report.
GOLD ACCOUNT: This is the best account with minimum deposit of $50,000. Spreads is from 1.0 pips and leverage is up to 1:5000, you equally have access to live chart support. It has all available platforms and you access all education tools. Technical analysis report and market update via emails is included.
PLATINUM ACCOUNT: This is tge highest account with minimum deposit of $100,000. Spreads is from 0.5 pips and everage up to 1:5000, the live Chart support is available in all platforms. Enjoy access to all education tools and technical analysis report with market update emails. Read about KeyesMiner and CryptoAtCost before investing.
Trading Conditions
EmpireFXPlus trading conditions are pathetic. The platform conducts all its operations via the web platform. Also, the software available for investment is incompatible with a reliable platform. Relying on the wrong tools will expose you to malicious third-party attacks. MetaTrader is reliable for trading. It offers access to automated trading, charting tools and investment apps.
Is EmpireFXPlus Legit?
EmpireFXPlus is not legit, the platform is non reliable and regulated company. They claim to offer the clients the best forex trading service but that's actually fake. Therefore in the process of our EmpireFXPlus review, we visited the site and scrutinize all. By checking, there's no evidence that they are legit or reliable. EmpireFXPlus is there to scam investors with higher promise on revenue. Be verify careful about platform that is not regulated like Empire FXPlus. Thus if you want to start trading go for Raceoption. This is a reliable trading platform that works, they offer the best trading services and conditions. Read more this new platform qubithashes mining
Customer support
Empire FXPlus have multiple contact channels to assist users. While we write EmpireFXPlus review we noticed that they offer support like. Livechat support, email and phone. However this can't guarantee your investment with them. You must be careful, other scam alert have pointed them yo be fake, please stay safe. To contact them check this office, 55, Whitechapel High Street, London E1 7QX,
United Kingdom. More-so, you get to them via email at [email protected].
Conclusion
Finally we will conclude our EmpireFXPlus review by telling you to avoid them. To start trading forex or bitcoin, go for Raceoption. They are safe and best for you to invest, if you mistakenly invest with EmpireFXPlus, you might lose your investment. To start trading with a regulated broker, the choice is yours. But we advise that you go for Raceoption. If you do follow our review, you will notice announcement over cryptocurrency scam. They much come as crypto mining, see our last warning on a cloud mining platform. Read utrader broker review.