Blockoption.io Review: Is blockoption.io legit or scam? Always read our review before investing in any broker. This is to avoid had i know and can i get my money back.
Blockoption.io is a binary option broker that was founded in 2019. Ever since the founding of the broker, it have claimed hug increase. Thus we need to scrutinize the broker to tell you if they are reliable or not. Blockoption is claiming to be founded by group of experts traders with long standing knowledge in financial markets. Blockoption claim to offer the world leading trading platform. The platform offer demo account and trading bonus. With this, one can actually consider opening account with the broker. More-so, block Option is providing for individual and institutional investors a wide range of trading products from foreign exchange, commodities and cryptocurrencies. Therefore if you ever wish to trade with them, you can trade and make profits based on their claims. Learn to trade binary options 
Is Blockoption.io Legit?
Blockoption binary broker is not legit, it's not as well reliable no regulated. Therefore in the process of our blockoption.io review, we noticed that it doesn't have all it takes to provide a financial services. Firstly we tried opening account with the broker. But it said that we must provide a referral code before completing registration. Therefore, it simply means that you cannot open account without being invited. So trading on the platform is strictly on Invitation. In addition to that, we checked their regulatory compliance. It's obvious that the broker is not regulated. More-so it's not offering a good trading service. However the most important part that scare us was the information about the broker. Ever since we tried to know the broker, they have remained unknown to us. On the about us page, they provide no information about themselves.
Blockoption Review On Platform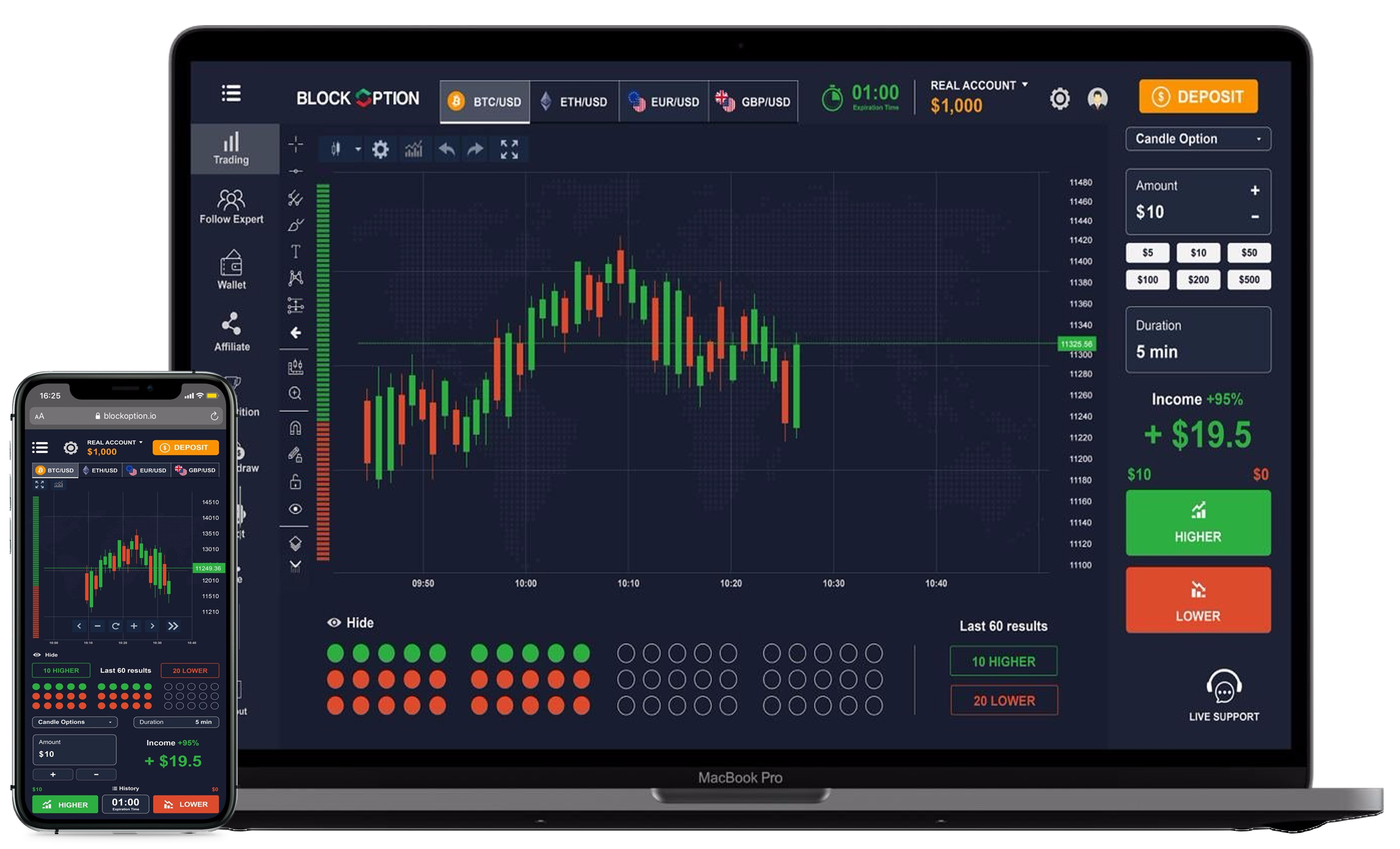 Block option offer inbuilt trading platform with demo. In the process of our blockoption review, we checked the platform. However we couldn't get trade on the real account or even demo. This is because we were not able to register. But with the image of the platform, we can see that it just a PUT/CALL option. There's an indicators and the trading starts from 30 seconds to 1hour. On the platform, you can trade forex, binary options and cryptocurrencies. To start trading, you don't have to download any app but you just open account and trade on the go. That is to say, no MetaTrader software like mt5. More-so, the platform is always accessible online to trade.
Account types
Blockoption binary broker offer real account and demo account. Therefore you can trade on the demo account before investing in real account. To open account, you need a referral code. However if you don't have one, you might need to contact the customer support for help. The demo account come with $1,000 for you to start practicing. The demo is good for beginners and even professionals who wish to try the platform before investing.
Customer Support
Blockoption binary broker doesn't offer any customer support. If you finally decide to trade with them, you are on your own. In the process of our blockoption.io review, we expect to see livechat support, phone calls or email support. But we didn't even see contact form to write to them. May be we have to login before we can see it but i think, a good broker show way to connect them.
Is Blockoption Regulated
Block option binary broker is not regulated nor is it reliable. The platform is not trustworthy at all. Please we advice that you avoid them at this moment. To start trading with a regulated broker, please go for binary.com. However, if you are ready to trade with them, you should be able to lose, not even withdraw. Another reason why you should avoid them is because, some of their page doesn't load. Therefore let assume you opened account with them and you are on trade but not able to open a page. Please avoid them.
Payment And Withdrawal Methods

I mus have to remind you that Blockoption is not legit but a scam. The only way you can make payment is by 4 different cryptocurrency methods. These are bitcoin, ethereum, THeTer and VNDC. However if you make payment via this method, then you are going to lose. Because you cannot trace them and or they will deny.
Education
Block option claim to offer education to traders. Thus we visited the page and tried to see the educational material. Of course they are not providing any education. However if you depend on this broker, you will not learn anything reasonable about binary options.
Blockoption.io Review Conclusion
Finally we will conclude our blockoption.io review by telling you to avoid them. If you check very well, there are plenty red flag on this platform. Starting from regulation, customer support, server and management. With all these, you don't have to ask second time before choosing another broker. Therefore we strongly recommend that you trade with alternative like Raceoption Or Iqcent. More-so we recently reviewed other scam that is not different from Blockoption broker. Read worldtradeinvestment review before you Fall a Victim.