UniversalGlobalFx Review: Is UniversalGlobalFx legit or scam? Who is behind this broker and how do you go about it? Well, we noticed that this platform is built newly but claim to offer the the best trading platform. Thus we have hust started our review about the broker and you will be able to differentiate between good and bad. Please read more on our platform and see how to avoid shady platform. More-so See videforex review.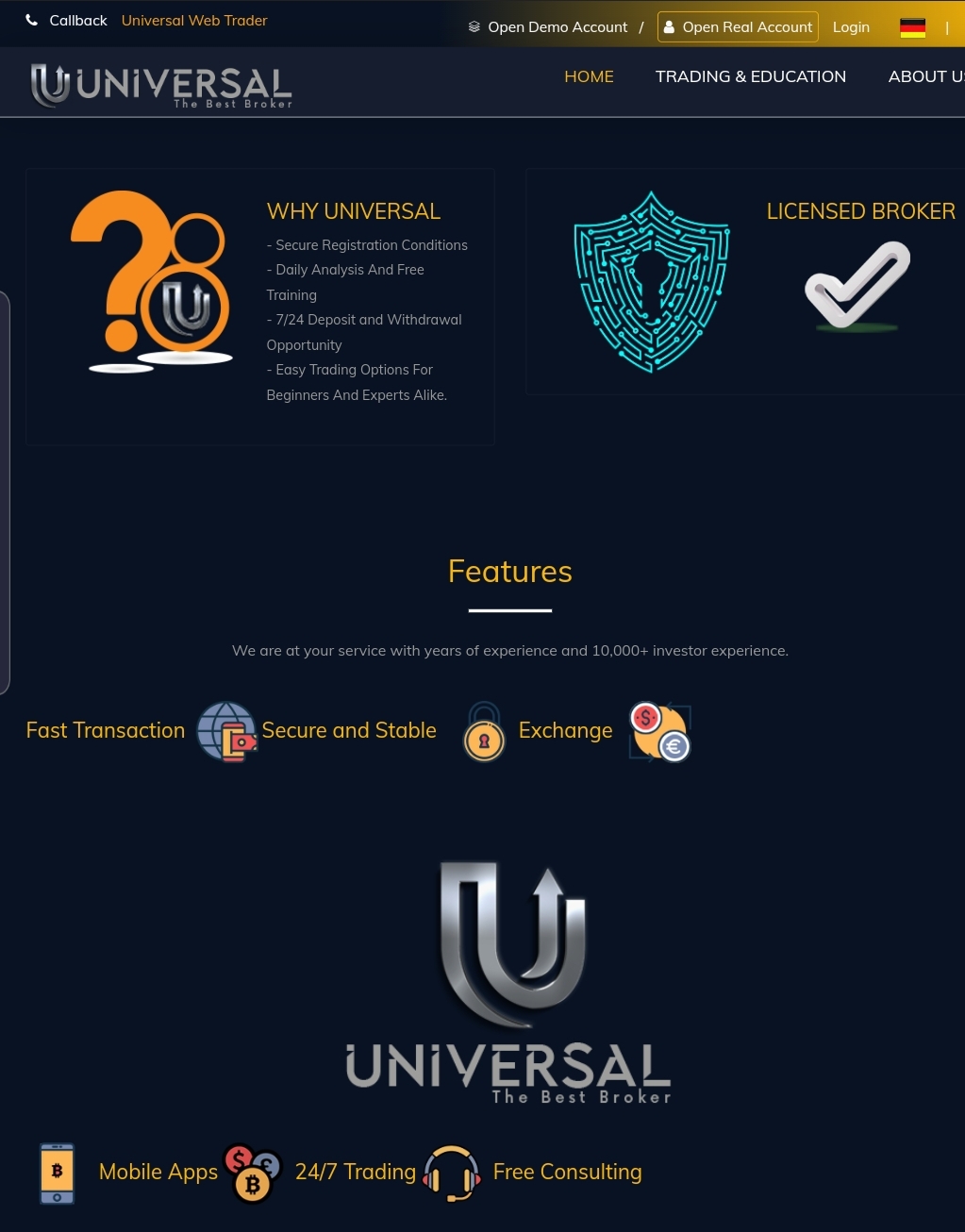 UniversalGlobalFx Broker Review
Universal Global Fx is a new forex broker that was founded in 2021-05-08. UniversalGlobalFx is assumed to be a good work of group of experts in forex trading.
Universal is an international broker with 9 years of expert experience serving all over the world. Universal is committed to its investors, with the sole goal of providing the best service. More-so best conditions, and delightfully fulfill its investors; Opportunities to achieve financial growth. It always shares knowledge through free tutorials, special events and daily analytics.
More-so, it claims to good customer support and demo. However the minimum deposit is 500$ which is not the best. The platform offers economic calendar and customer support. It equally have opportunity for referral and market data. To use this platform, you might think that what is written on the platform is going to be true. But i say wait first while we technical verify this platform. See our top forex brokers.
Universal Global Fx Account Types
The broker offer three types of trading account which comes with it's package. Therefore if you choose any of this UniversalGlobalFx account you get the features on that account.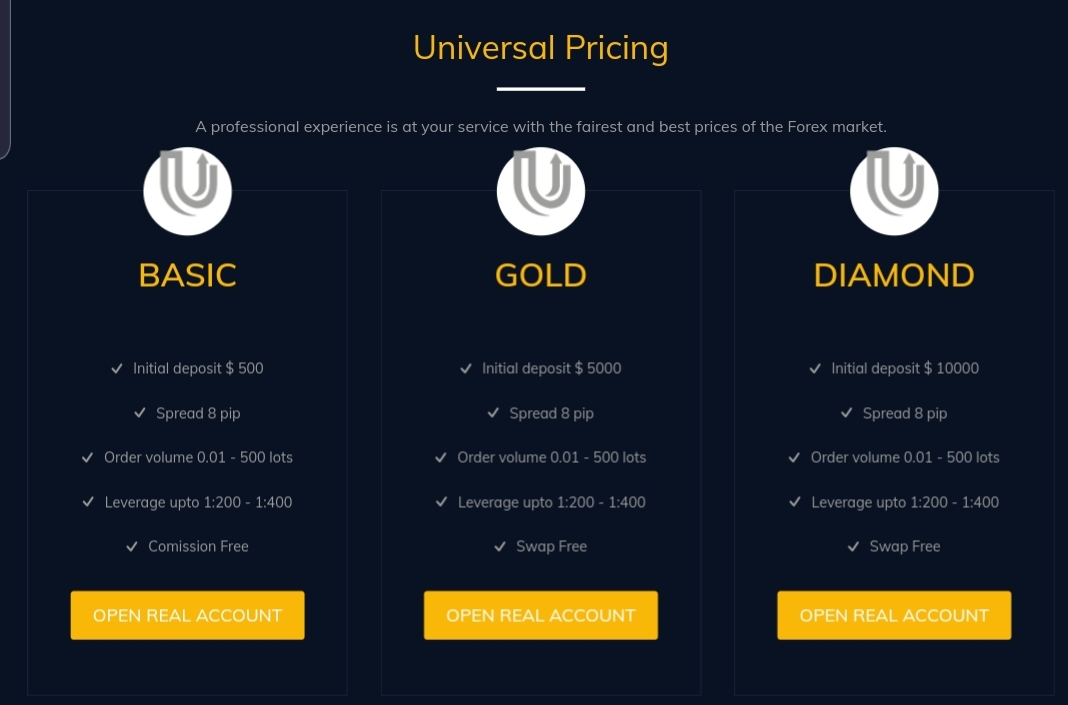 1. BASIC: This account type comes with Initial deposit $ 500. More-so yiu get Spread of 8 pip and Order volume is 0.01 – 500 lots. The Leverage in this package is upto 1:200 – 1:400, while Comission is Free.
2. GOLD: This plan has Initial deposit of $ 5000 with spread of 8 pip. The Order volume is 0.01 – 500 lots, Leverage upto 1:200 – 1:400, however Swap is Free.
3. DIAMOND: This account comes with initial deposit of $ 10000 and pread 8 of pip. The order volume is 0.01 – 500 lots while leverage is upto 1:200 – 1:400 with free swap.
Universal Global Fx Platform
The UniversalGlobalFx broker offers a good trading platform which is MT5. The Meta Trader MetaTrader 5 is a popular Forex trading and analysis platform that provides trading currencies, stocks, precious metals and CFDs in stock indices. Therefore customers can download the MetaTrader 5 trading platform as mobile apps. That's on PDA, iPhone®, iPad ™ and Android. Generally, using mt5 platform can be easy for anyone. You can use it on every other brokers.
Is UniversalGlobalFx Legit?
UniversalGlobalFx is not legit because they claim to have 7 years experience, while the company started last year. If it happens that it's an old broker, i would rate them via their authority. The platform is not legit if we are to check it via good website. It has that poor look that makes me doubt the genuineness of it. More-so you can't find a good trading tools on the platform. To experience the best trading platform, go for Raceoption broker. You will get a good trading experience. However to invest, go for bitcoin-mining
Customer Support
UniversalGlobalFx offers a customer support service via livechat email and phone. That's a good way to serve customer. Though it doesn't guarantee your investment. Check them out. UNIVERSAL
Phone
+380 916 317 084
Mail
[email protected]
Adress
02094, Kyiv, Hnat Khotkevych Str., house 12, office 177
Read earnsmarket review and find out if they are worth investing with.
Conclusion
Finally, we will conclude our UniversalGlobalFx review by telling you to avoid them for now. The platform is built not upto a year now and have bogus claims. Definitely they are not legit, meaning it's not safe for your investment. UniversalGlobalFx is not legit and reliable, so stay cool at Raceoption broker. Make a choice that will improve your profit daily. I'm not a fan of bad recommendations but whatever you see here is based on past experience. Follow the best advice and avoid unclear investment advice.