FxPro Review. The broker is a successful retail and institutional broker with their service in over 170 countries. Fxpro offers Contracts for Difference (CFDs) on 6 asset classes: Forex, Shares, Spot Indices, Futures, Spot Metals and Spot Energies. 
How To start earning with FxPro MetaTrader4
Get more forex trading strategies
FxPro is the best NO-DEALING DESK BROKER SO-FAR. However, advanced investors will likely appreciate their no-dealing desk (NDD) execution because of its speed and additional anonymity. The broker is located in UK, Cyprus, Bahamas, Monaco and the United Arab Emirates. Please see all the reviews and consider your response important to others.
FxPro Review
2006 marks the entrance of fxpro in the financial markets; Thus, they maintain a strong proponent of transparency. Fxpro also maintains the best trading platform, including the fxpro MetaTrader4 (MT4) and MetaTrader5 (MT5). The new version of cTrader platform by (Spotware Systems) is still good platform. In addition to that, their custom trading applications, and mobile applications enhance current signals.
FxPro Compliants
Andreas Jacovides
Today, we are going to check fxpro compliance based on personality. Mr Jacovides spent seven years at CySec as Anti-Money Laundering and Countering Financing of Terrorism Officer, and brings his expertise from within the regulatory authority itself to FxPro. Because of this, Fxpro is a broker you should trade with confidence.
Our Finding with FxPro MetaTrader4
When checking a broker, we first of all consider legal compliance, which gives our users 50% trust. In the meantime, our FxPro review today will shade more light for comprehensive reading on regulations. FxPro is regulated and monitored by various financial services authority with registration number to track them.
TESTING FXPRO WITH COMPLIANCE
Let us gradually examine this. FxPro UK Limited is authorised and regulated by the Financial Conduct Authority. (FCA) with (registration no. 509956). Since 2010.
FxPro Financial Services Limited is authorised and regulated by the Cyprus Securities and Exchange Commission (CySEC). With (licence no. 078/07). since 2007. FxPro Financial Services Limited is authorised by the Financial Sector Conduct Authority ('FSCA') With (authorisation no. 45052). since 2015. FxPro Global Markets MENA Limited is authorised and regulated by the Dubai Financial Services Authority. (DFSA) with (reference no. F003333). FxPro Global Markets Limited is authorised and regulated by the Securities Commission of The Bahamas. (SCD) With (license no. SIA-F184).
FxPro Account Types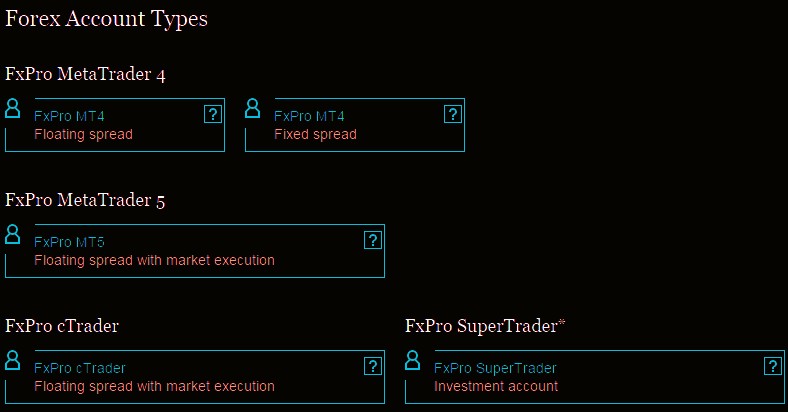 The broker offers a range of accounts and this is more reason, why we have to specially go through all the account before our FxPro review. The broker offers a Demo account, mtaTrader4 (MT4), MetaTrader5 (MT5), cTrader and edge accounts. They also offers VVIP account to traders of high class. This is not just all, You will be more confused if you don't understand the concept of those accounts. FxPro Account Types Like MT4, MT5 and cTrader are based on your regulatory jurisdiction.
In accordance with the CySEC, If you are under CySEC. FCA and SCB regulations, then you only have access to the following account types offered. MT4 account with fixed spreads and Instant Execution.. MT4 account with floating spreads and Instant Execution. Also MT4 account with floating spreads and Market Execution. cTrader account with floating spreads and Market Execution. MT5 account with floating spreads and Market Execution. In addition, Traders under the regulatory body of DFSA: Only have access to the following account types. MT4 account with fixed floating spreads and Instant Execution. cTrader account with floating spreads and Market Execution.
FxPro review on Demo account
The demo account is available for everyone, however you can open More than one demo accounts. But the Demo accounts can be recharged with funds via FxPro Direct. However, have in mind that demo accounts will be deactivated if there is no activity for a period of 30 days. Please NOTE that On their MT4 and MT5, demo accounts are limited to a maximum of 70 open positions. But for a but for fast learner, you can catch it all before then.
VVIP Accounts
FxPro premium VVIP Accounts are offered to few individuals with high net-worth. (typically $50k or equivalent) and those actively trading large volumes. VVIP clients benefit from free VPS service, no deposit fees, trade recommendations, exclusive news reports and margin level alerts via email and SMS.
Joint account
FxPro offers a joint account to any already Fxpro members who wish to have joint account. But you go each person must first open an individual account. Please note that joint accounts are only available to married couples; First degree relatives and individuals who have lived together for at least one year or who have a joint bank account.
FxPro cooperate account
For you to open a cooperate account with; You will have to open a trading account on your company name via usual sign-up procedure. Then you enter the personal details of the person who will be the authorised representative and send an email to [email protected] with the official company documentation such as a certificate of incorporation, articles of association etc. You should also include the company name, location and nature of business.
Swap Account
FxPro try as hard as possible to individual deferences and law. In accordance with the Shariah Law, they offers swap-free accounts to clients of Muslim faith.
FxPro Minimum deposit
The minimum recommended deposit after registration, that's for the first time is 500 USD. However, after that you will be qualified to deposit as little as 100 USD as minimum deposit.
Trading platforms
The broker provides a range of trading platforms for users,, the features attached to those platforms are unbeatable. Depending on your trading style and preferred platforms, you can go with any of the trading platform as listed. Fxpro MeTatrader4 (MT4,), MeTatrader5 (MT5), cTrader and edge. All these platforms are available on Android phone, IOS and windows. Firstly let's take a look at all the trading platforms available and it's features based on download.
FxPro MeTatrader4 (MT4)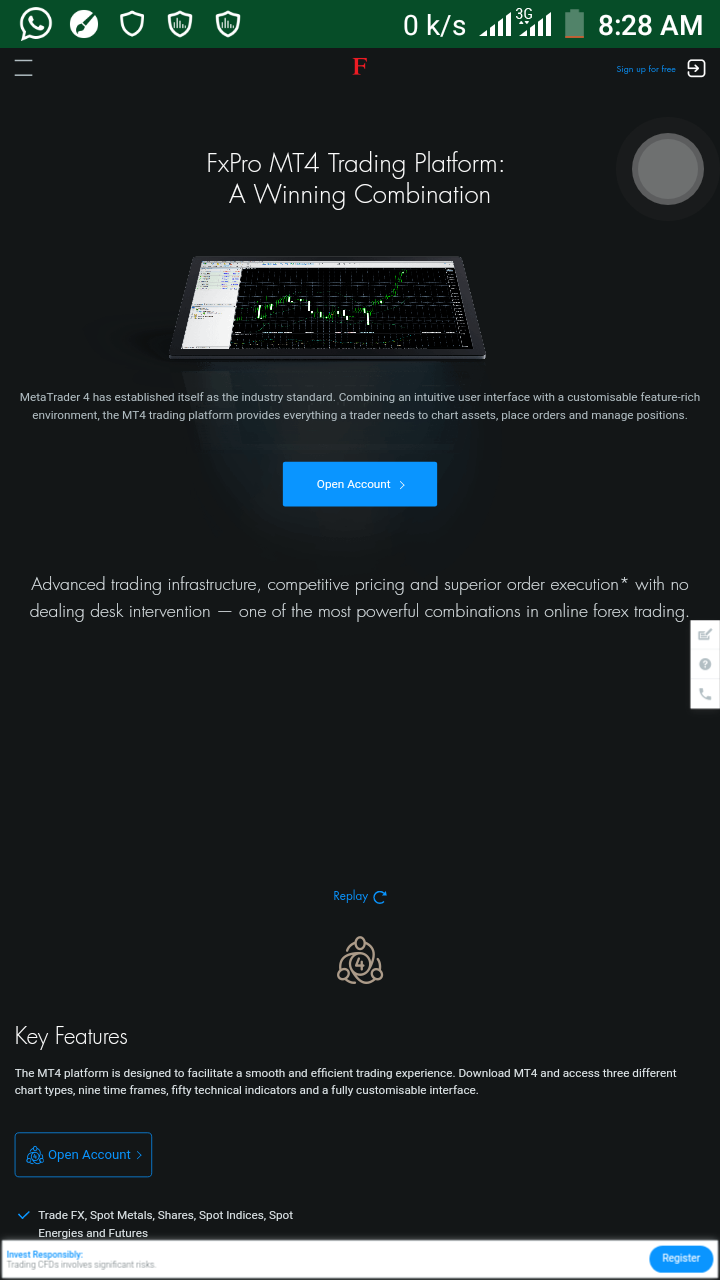 Fxpro MetaTrader4 is very standard, you can easily navigate through the dashboard. We all know  that mt4 is one of the best metaquote software. However Fxpro MetaTrader 4 platform (dubbed FxPro Client Terminal), Have an intuitive user interface. The fxp MetaTrader4 comes with fifty technical indicators. Therefore with fxpro MetaTrader4 customisable feature-rich environment you execute instantly. Fxpro MetaTrader4 trading platform provides everything a trader needs to chart assets, place orders and manage positions. Above all, you can trade FX, Spot Metals, Shares, Spot Indices, Spot Energies and Futures.
FxPro MetaTrader5 (MT5)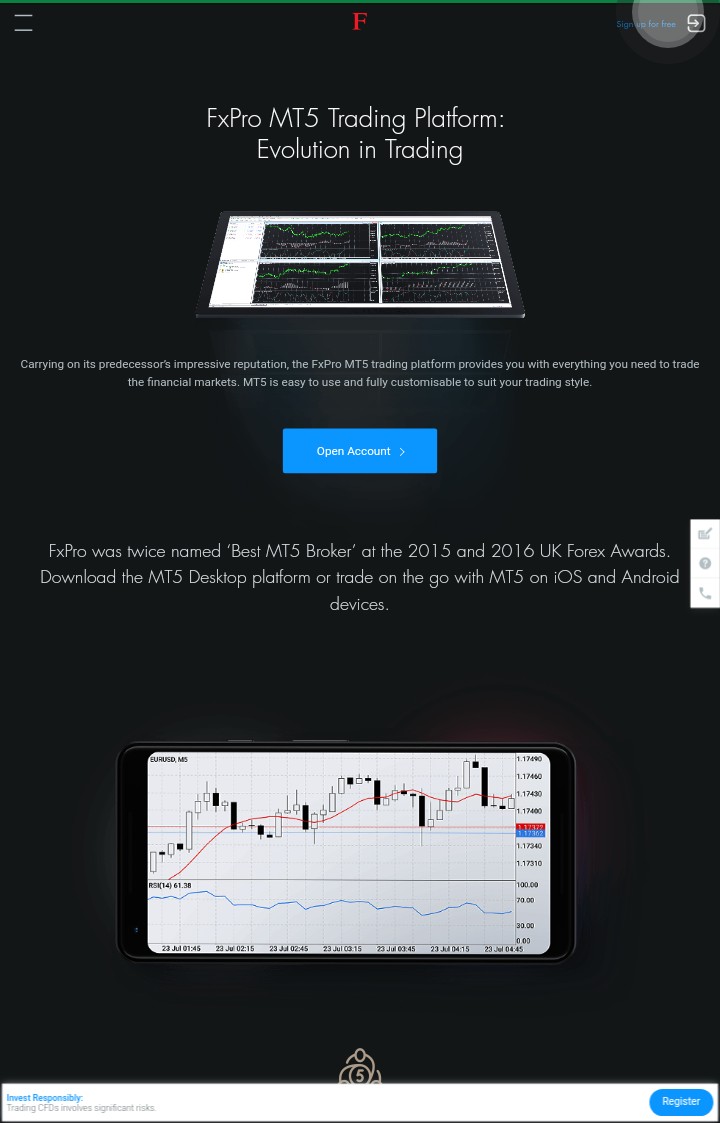 MeterTrader5 (MT5) have some advanced features not found in MetaTrader4. The features attached to MT5 are built-in economic calendar, trading from tick charts and extra built-in indicators. MetaTrader5 allows traders to customize its layout to suit their trading style, analyze the markets with a large selection of pre-installed technical indicators and graphical objects and place orders. MT5 allows you to chart assets at 21 different time frames. However it gives you the ability to have up to 100 charts open at any given time
FxPro review on MT5 oder execution
Market Order(s)
| Fxpro MARKETS | MetaTrader 5 |
| --- | --- |
| Execution | Market Order |
| Slippage | Yes |
| Partial fills | Yes |
| Level restrictions on 'stop & limit' orders | N/A |
| Commission | N/A |
| Mark-up | Yes |
Pending Order(s)
| STOP ORDERS (BUY STOP, SELL STOP, STOP LOSS) | MetaTrader 5 |
| --- | --- |
| Execution | Market Order |
| Slippage | Yes |
| Partial fills | Yes |
| Level restrictions on 'stop & limit' orders | Yes |
| Commission | N/A |
| Mark-up | Yes |
| LIMIT ORDERS (BUY LIMIT, SELL LIMIT, TAKE PROFIT) | MetaTrader 5 |
| --- | --- |
| Execution | Limit Order |
| Slippage | , positive. |
| Partial fills | Yes |
| Level restrictions on 'stop & limit' orders | Yes |
| Commission | N/A |
| Mark-up | Yes |
FxPro cTrader platform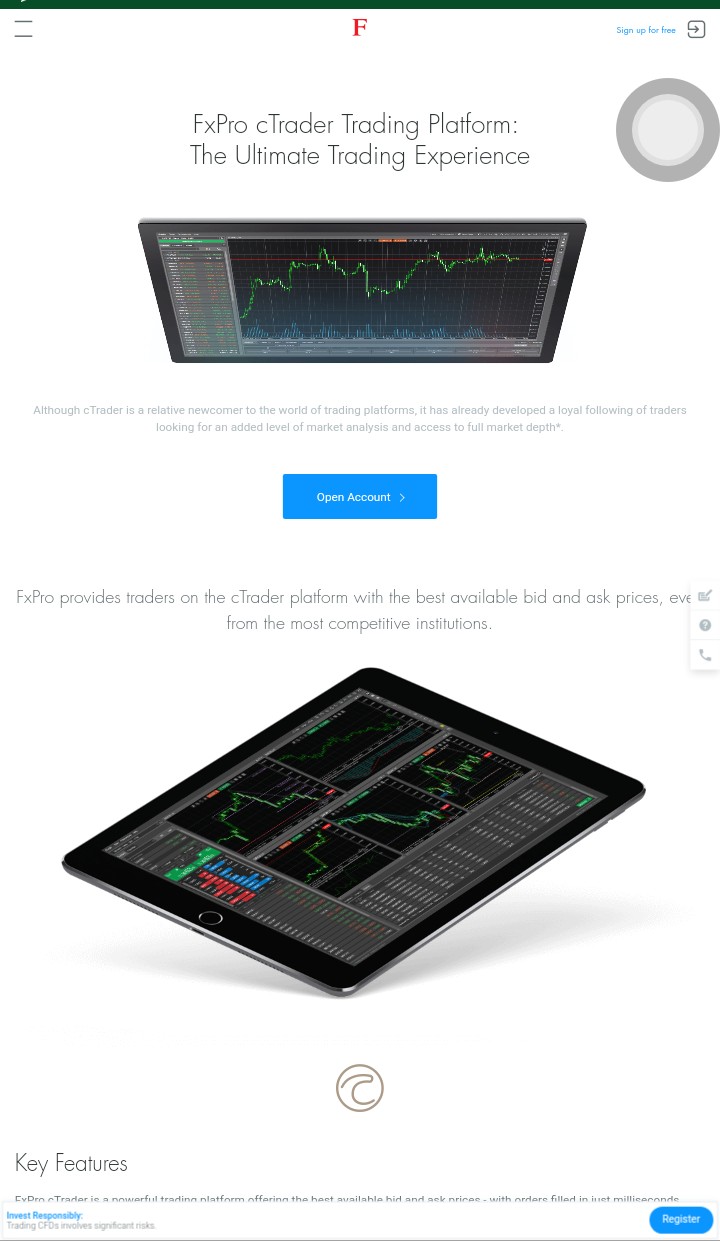 Before our fxPro review, we went through resarchs and we found out that the broker is more good with mt4, mt5 and cTrader. The Offer their clients a cTrader trading platform with the best available bid and ask prices. They equally fill orders at VWAP (Volume-Weighted Average Price), executing through the available liquidity tiers until the order is filled. They offer some of the tightest trading spreads in the industry, starting from 0 pips on highly liquid pairs
Edge platform
This is additional platforms to help improve their trading experience. The platform comes with an intuitive interface and vice-versa. It replaced the former web based platform. Many features are available on the platform, see features. The Key Features is a highly customisable web platform which enables traders to place their orders without the need to download and install any software.
Features of FxPro Edge
Trade Forex, Shares, Spot Indices, Spot Metals and Spot Energies Limited Risk Account at no additional cost No commission Tight spreads Tax-free*
FxPro Spreads & Commissions
Spreads are sometimes variable, 1 pip variable spread on average for instant operations. 6 pips on average for variable spreads in market execution. Fixed spreads vary depending on the time. During 8am and 8pm in both US and UK time, the spreads average 2 pips with the GBP/JPY breaking at 3 pips in the UK time. Between 9pm and 11pm (UK), the spreads are distributed between 2.5, 3, and 4 pips. In abnormal market conditions, they may reach 4.5 pips.
FxPro Spreads By platforms
If we take it to the spreads per platform for EUR/USD, we get: fxpro MetaTrader4: 1.4 for instant average and 1.2 for market average variable spreads. MT5: 1.4 variable spreads on average. cTrader: 0.3 on average for variable spreads. FxPro Edge: Minimum average of 0.9 on variable spreads More-so,  traders have the option of margin trading, requirements for which will depend on your account type.
Trading with gold leverage, for example, allows you to increase your position size and capitalise on potential opportunities in gold prices. However, there are also risks. The maximum available leverage is 1:500. See the official website to plug your details into a leverage calculator.
Fxpro Review Other Fees
There are some charges to be aware of. For example, overnight and rollover rates will see you pay $8.13 for EUR/USD long positions, while the short positions come with a $2.23 charge. However, unlike many competitors, they do not charge an inactivity or withdrawal fee. Overall spreads and fees are competitive and good value when you take into account the range of trading tools and resources available. Having said that, fxpro could improve their offering by introducing some welcome promotions and deposit bonuses
FxPro Deposit And Withdrawals Methods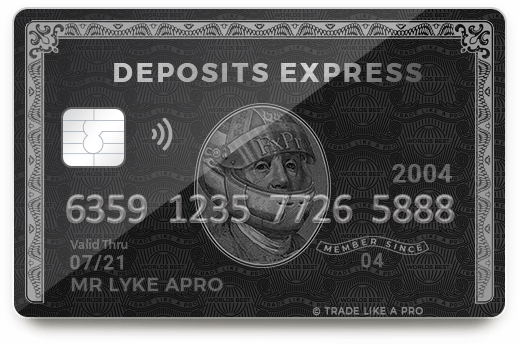 FxPro withdrawal problem
During withdrawals, some challenges might occur. This problems are likely to be The issue of withdraw to a different credit card or bank account which was not used to deposit.
Solution
To avoid frustrating your self. Please on your first withdrawals.  Make sure you withdraw using the same method employed during deposit. Then after that, on a subsequent time you can use another method
Is FxPro an ECN broker
The answer is NO, that's why our FxPro review is designed. Possible question will be answered at its best. FxPro is not a true ECN broker, rather they are true (NDD) No Dealing Desk Broker.
Is FxPro an STP Broker
The answer is No, the is not an STP broker. STP (Straight-Through-Processing) is one of the most commonly misinterpreted terms in the trading industry. Although it is often considered to relate to the execution that a client receives from their broker, STP is in fact a post-execution, post-trade communication process between executing counterparties with minimal impact on the speed or price of execution that a retail trader is offered.
How Is No Dealing Desk With FxPro like
The Clients orders are executed anonymously with No Dealing Desk1 intervention. Most orders are executed in less than 13 milliseconds, with up to 7,000 orders executed per second.
FxPro all-in-one Calculator

With FxPro All-In-One FX Calculator, you receive all the important FX rate information. Simply enter the respective currency pair, account currency, leverage and position size and click 'Calculate'. To access to the Tool, please go to "Trading Tools"→"Online Tools"→"FXPro Calculators" in the broker's official website. Then you will see the below built-in program in the page.
How Safety is my money with fxpro MetaTrader4
A broker like this is few. The reason is because they put the put Aall client funds in a segregated operating capital in Tier-1 accounts with major global banks. And in terms of your bank details, they are well under SSL.
fxpro Insurance
Yes, the Financial Services Ltd is a member of the Investor Compensation Fund (ICF) and FxPro UK Limited is a member of the Financial Services Compensation Scheme (FSCS). The ICF insures customer deposits up to €20,000 per client and the FSCS insures customer deposits up to £50,000 per client. Please don't panic when you trading with fxpro.
Customer support
They offers a dedicated multi-lingual customer service to traders. The teams work 24/5, providing the best service at the right time. In addition to that, they support services is available in phone call, email, Skype, live chat.  Offices Location
United Kingdom (Headquarters)
13/14 Basinghall Street, City of London, EC2V 5BQ Email: [email protected] Local calls toll free: 08000 463 050 Reception: +44 (0) 20 7776 9720 (7:30am – 4:30pm GMT) Sales Inquiries: +44 (0) 20 3023 1777 Fax: +44 (0) 207 600 7063Web: www.fxpro.co.uk Monaco (Administrative Office) 26, boulevard des Moulins Monaco, 98000 Email: [email protected] Tel: +44 (0) 203 151 5550 Fax: +44 (0) 207 600 7063 Web: www.fxpro.co.uk
Cyprus (Operational Headquarters)
Karyatidon 1, Ypsonas 4180, Cyprus Email: [email protected] Tel: +357 25 969 200 Fax: +357 25 969 269
United Arab Emirates (Dubai Office)
Index Tower, Floor 10, Unit 1010, Dubai International Financial Centre, (Dubai, United Arab Emirates) Email: [email protected] Tel: +971 (0) 4 372 5900 (7:30am – 4:30pm GMT) Fax: Fax: +971 (0) 4 351 6840 Web: www.fxpro.ae Bahamas (Nassau Office) Lyford Financial Center, PO Box N 7776, Nassau, Bahamas. Email: [email protected] Tel: +1 242 603 2224
FxPro Review Conclusion
Finally, we have to summarize; our fxpro review 2019, to know if  they are the best forex brokers so-far, and as well good for beginner. Over the years, the broker has been rated Top 1 to provide traders a transparent financial services. Therefore, if you have been looking for a safe trading environment, start HERE NOW. Above all, the broker have introduced new FxPro interfaces known as direct. therefore, your trading activities is now enhanced.  More-so, Al those cons has been removed. Compare fxpro with pepperstone
Is fxpro the best forex broker for me?
Pros
15+ Years of Excellence.
They serves clients in over 170 countries.
Fxpro offers 250+ Instruments.
They CFDs on Forex, Shares, Futures, Spot Indices, Spot Metals and Spot Energies.
Available 4 Trading Platforms.
Trade on your preferred platform including FxPro metaTrader4, MT5, cTrader and Edge
Fast Execution & Deep Liquidity
They offer best ultra-fast order execution with most orders executed in under 13ms.
Doctor have collected 55+ UK & International Awards
Fxpro provides 24/5 Multilingual Support
And 24/5 Customer Support, providing assistance in more than 17 languages.
CONS
No Guaranteed Stops

Even at a higher cost there is no way to guarantee a stop loss order.
No Options

There are no binary or vanilla options available for traders looking for more flexibility.
Average Costs and Fees

While not disproportionately large, trading costs and account fees were merely average for the industry.
How to open FxPro MetaTrader4 account
Their account opening process is quite different from others. However, if you decide to open trading accounts with;  you will need to provide some documents for verification.
Firstly, you will have to visit the registration page and fill the form. Most importantly, with your personal data as it appears in your documents.
secondly,  You'll also need to answer a few basic compliance questions to confirm how much trading experience you have, so it's best to put aside at least 10 minutes or so to complete the account opening process.
Thirdly you will need to provide your identity, like passports, driving license and national 🆔. Moreover you have to verify your address
Finally, your account is verified, up and running. Then you have to deposit money into your trading account. However, first review the attached file on deposit methods and  you platforms with respect location.
After that then download your trading platforms and starting earning money.
FxPro direct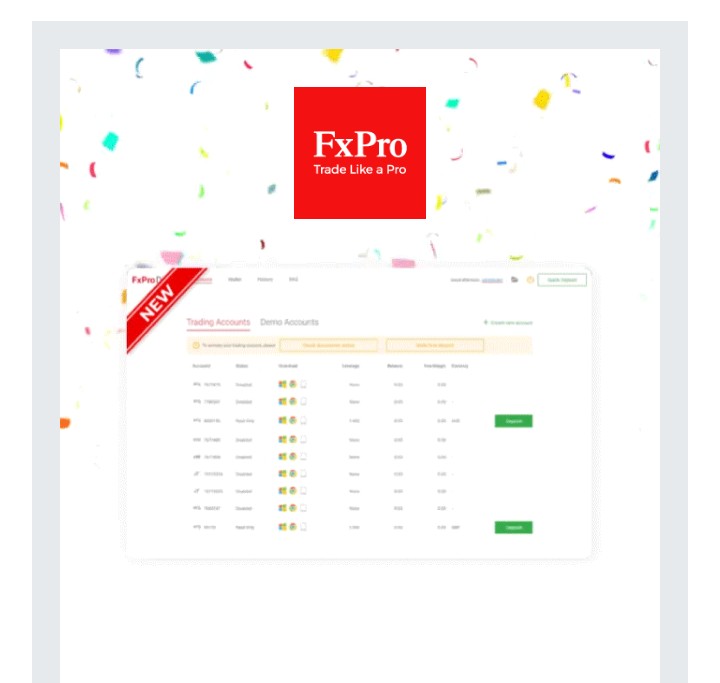 In addition to all we have said; We want to use this opportunity and clear your mind on the new fxpro direct. However the new face of fxpro was launched on 26th January 2019. in the new fxpro direct, you will have to use your old credentials to login. More-so, In the New Direct, your Vault has been replaced with your Wallet. The Wallet works as a central holding account and it's completely segregated from your trading accounts keeping your funds protected against any market movements and secure at all times.
Risk warning
In general, CFD is not suitable to everyone. Therefore, trading contracts for difference involves high risk. And sometimes leads to losing all your money you should consider trading if you understand the risks.