easymarkets review
Easymarkets review, the broker was first founded in 2001, and has been the world best forex broker so far. Due to the fast growing of the company. Over the years they expanded their CFD offerings to include global indices, energy, metals and more. In 2016 we rebranded from easy-forex to easyMarkets.
Easymarkets is an award-winning online broker offering Contracts for Difference CFD. However, traders are provided with superior order execution with no dealing desk intervention, and access to a deep pool of liquidity via a wide range of platforms. Easymarket is known for maintaining a client-centric approach and remains an active proponent of transparency and fair trading practices. Therefore we consider this review, a beginner guide to easy market forex broker and opportunity to compare with ICmarkets.
Easymarkets Broker Account Types.
In the process of our easymarkets review, we noticed that the is more friendly in terms of accounts. That is to say that,  easyMarkets always make trading simple, by providing 4 different account types. In addition to that, there is also an Islamic account option for each account type. However, You need to apply for an Islamic account, then you may be asked for some documents to prove your belief by the broker.
| Account Type | Minimum Deposit | Maximum Leverage | Minimum Trade Size | Spreads |
| --- | --- | --- | --- | --- |
| Standard | $100 | 1:400 | 0.01 | 3 pips on EURUSD |
| Premium | $1000 | 1:400 | 0.5 | 2.5 pips on EURUSD |
| VIP | $2000 | 1:400 | 0.01 | 1.8 pips on EURUSD |
| Super VIP | $10.000 | 1:400 | 0.01 | Custom Spreads |
More-so, you can see 4 different account types and features offered by easyMarkets broker on the table above. The minimum deposit in the standard account type is $ 100. However, spreads are 3 pips on EURUSD and 4 pips on GBPUSD. These spreads are not competitive when compared to other brokers. However, if you funding  a higher initial deposit, you can trade with tighter spreads.
And finally on account types offered easymarkets review, the leverage is 1: 400 for all account types. I can say that there is a acceptable leverage ratio between ASIC and CySEC-regulated brokers.
easyMarkets TRADING PLATFORMS
easyMarkets broker offers you multiple platforms to trade, this offers clients a high level of choice. No matter which you prefer, it will always include easyMarkets great trading conditions and amazing customer support.
easyMarkets App
Have the markets at your fingertips with easyMarkets trading App. Institutive and user-friendly it gives you access to trading and information in same interface.
Available on Android & iOS
Integrated analytical tools
User-Friendly
dealCancellation, Freeze Rate and Free Guaranteed Stop Loss and Take Profit
All the features of easyMarkets Web platform in the palm of your hand
easyMarkets Web Platform
Accessibility is very important when trading, this is why easyMarkets has a dedicated web platform packed full of its useful tools and features. This gives you even more choice when trading.
Trade anywhere with any internet enabled device and internet connection
dealCancellation, Freeze Rate and Free Guaranteed Stop Loss and Take Profit
Analytical Tools
Simple and easy to navigate interface
Access 200+ instruments
Zero slippage
easyMarkets MT4
One of the most popular trading platforms, easyMarkets offers MT4 with the great trading conditions and customer support all easyMarkets clients have access to.
Use this popular platform with easyMarkets great trading conditions
Negative Balance Protection
Free guaranteed stop loss and take profit
Trading Central news and analysis
Highly customizable for experienced clients
Why is choosing a good trading platform important?
The right platform gives you:
Fundamental & Technical Tools
Market Updates and notifications on App
Zero Slippage and fast execution
Ease of Use for new traders
Customizable for experienced traders
Innovative trading and risk management tools
easyMarkets vs. MT4 Platform Comparison
easyMarkets Platform
MT4 Platform
dealCancellationcancel a deal in 1 hour if markets move against you
Free Guaranteed Stop-Loss
Manage risk with a predetermined price level
One Button Trades
"Buy" or "Sell" with just one click or tap
Day trade, pending deal
Vanilla Options, forward deal
Integrated News, Charts and More
No Slippage
The price you see is the price you place your trade
Micro lots
50% Stop Out. 70% margin call level for MT4 platform.
Automated processes, EAs
MultiTerminal
For advanced users
Technical charts, analysis tools and chart overlays
Predesigned and custom trading templates
Trading tools on easyMarkets platform
deal Cancellation*
deal Cancellation is one of the most innovative tools easyMarkets offers. It allows you to undo a losing trade
Freeze Rate
See a price you like? Freeze it. This gives you a small margin of time to buy or sell the instrument you are trading using the 'frozen' rate
Free Guaranteed Stop Loss
Free guaranteed stop loss, means that you will never exceed what you are comfortable risking…click here to find out how to better manage risk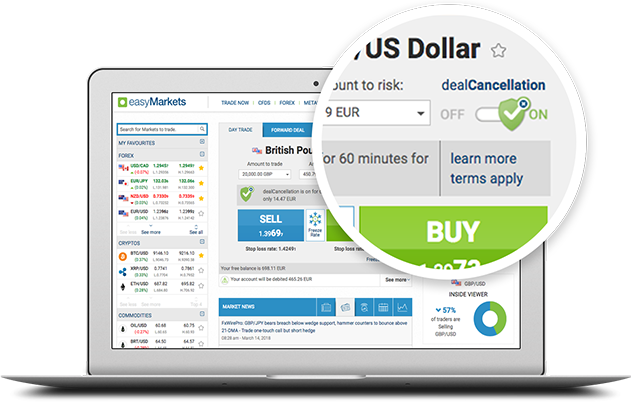 deal Cancellation
dealCancellation is one of the most unique trading tool offered by any online broker. It allows you to "insure" your trades against loss for 60 minutes for a small fee depending on market volatility. If the trade goes against you, simply undo it and you will recover your invested amount and any losses that may have occurred.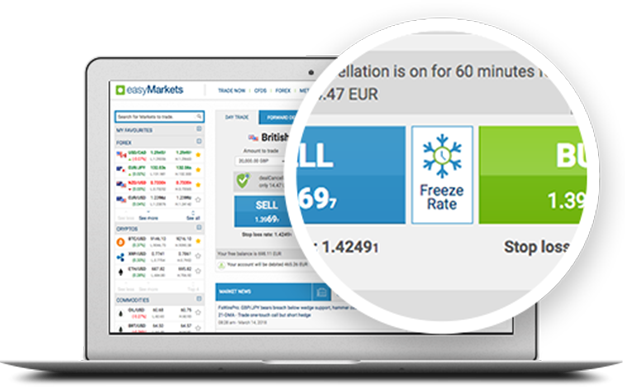 Freeze Rate
The rate is moving. You want to trade on that rate. You aren't sure which direction it will go. Freeze it. This gives you a small margin of time to buy or sell at the frozen rate while the real-time rate is still moving.
Negative Balance Protection
Easymarket is one of the first brokers to build an online trading platform that guaranteed a client would never lose more than their investment. They have kept this guarantee and promise unchanged since our founding in 2001, no matter what account type you have or the platform you use.
Pending Orders
If the current rate is different from the one that you want to trade on, you don't have to wait in front of the platform. Setting a Pending Order allows you to choose to Buy or Sell at a predefined rate once the markets reaches that level.
Free Guaranteed Stop Loss
Managing your risk when trading is extremely important. Some traders use stop loss – which closes a position when their chosen price level is reached. By guaranteeing your stop loss easyMarkets ensures you will never lose more than you intended. easyMarkets broker guaranteed stop loss comes at no additional cost. Simply choose the level of risk you are comfortable with and if the price reaches that level your position will close.
Fixed Spreads
Spreads are part of the transaction fees when trading. Transactions have two sides buying (bid) and selling (ask). The difference between the bidding and asking price is the spread. Our spreads are fixed, instead of variable spreads which increase during market volatility. This insures price transparency, you know what fees you will pay even before you trade.
Free Guaranteed Take Profit
Take profit gives you the ability to close a deal when you reach a level at which you are happy with your gains. This is a great tool for traders that want to predefine their risk to reward ratio, by using stop loss to define their maximum risk and take profit to define their maximum level of gains. Both are guaranteed and are free no matter what account type you have.
Tools to keep you informed
Notifications
One of the best risk management tools is knowledge. Receive up to the minute notifications about price movements, so you always know how the markets are moving.
Live Currency Rates
Monitor the rates, percentage changes and the highs/lows of your preferred market live and then load it into your trading ticket with just a click.
Inside Viewer
Learn what markets are thinking. Inside Viewer is a tool unique to easyMarkets, and a first of its kind when it was launched in 2009. It gives you a deeper understanding about market movements – by showing you what percentage of traders are buying and selling a specific instrument.
Trading Charts
Markets are always moving. Being able to see where the price was previously and where it is now, along with being able to see emerging patterns can help you better understand market movements. Technical indicator overlays on charts can help you identify these patterns.
Financial Calendar
Knowing what is going on in the world is important when you trade, this is why we integrated a financial calendar in the same platform you can trade in.
Market News
The latest financial market news, at your fingertips, without the need to leave your trading platform. This keeps you in the loop while on the markets and also you  will have all market situation in your box
Demo Account
Do you feel like you need a little more time to learn and develop your trading strategy? easyMarkets demo account allows you to familiarize yourself with the tools available to you and their platform, while also piloting your trading strategy without any risk.
Easy Markets spreads & fees?
Like most brokers, EasyMarkets take a fee from the spread, which is the difference between the buy and sell price of an instrument.
The spreads displayed below are based on the minimum fixed spreads listed on EasyMarkets's website. The colour bars show how competitive EasyMarkets's spreads are in comparison to other popular brokers featured on BrokerNotes.
EUR/USD

1.8 PIPS

USD/JPY

2.6 PIPS

GBP/USD

3.0 PIPS

BITCOIN

60.0 PTS

GOLD

0.5 PTS

DAX30

2.0 PTS
Spreads are dynamic and are for informational purposes only. Last updated: June 06, 2018.
As you can see, EasyMarkets's minimum spread for trading EUR/USD is 1.8 pips – which is relatively high compared to average EUR/USD spread of 0.82 pips. Below is a breakdown of how much it would cost you to trade one lot of EUR/USD with EasyMarkets vs. similar brokers.
How much does EasyMarkets charge to trade 1 lot of EUR/USD?
If you were to buy one standard lot of EUR/USD (100k units) with EasyMarkets at an exchange rate of 1.1719 and then sell it the next day at the same price you would likely pay $N/A. Here's a rough breakdown of the fees and how this compares against XTB & City Index.
| | EasyMarkets |
| --- | --- |
| Spread from: | N/A |
| Typical overnight fee: | N/A |
| Commission: | N/A |
| Total cost of a 100k trade: | N/A |
| | |
| | VISIT EASYMARKETS |
All fees/prices are for informational purposes and are subject to change. Last updated: 09/03/2018. Your capital is at risk.
General Fees
EasyMarkets doesn't charge inactivity fees*
EasyMarkets doesn't charge withdrawal fees*
Overnight fees & swap rates
The rollover fee for long positions on EUR/USD is -$4.34
The rollover fee for short positions on EUR/USD is -$1.82
Commissions
EasyMarkets doesn't charge commission on CFD shares
Regulation And Security
Today we will stress the importance of the regulatory compliance of the broker. easyMarkets is regulated by both ASIC and CySEC. eaymarkets offer our clients negative balance protection and their funds are held in segregated accounts
Easymarkets review on customer service
We found that customer service and training were the two key strengths of the forex broker.
Easy markets is know to provide you with all assistance as a trader.  If is advised that a premium account be considered if you want a regular customer service to assist with your day-to-day forex trading.


As the table above highlighted, two of the most popular contact methods are the phone and live chat. Live chat is not offered by all the forex broker and is ideal for short questions relating to traders.
Live chat is complemented by Viber and even Facebook messenger. The key is that these communication channels including live chat are available to all forex accounts offered by EasyMarkets.
Based on this it's strongly recommended to open a premium account as it ensure you receive lower spreads and better customer service and only requires a larger minimum deposit (which you don't actually have to traders
easyMarkets platform strives to offer the best possible trading conditions – including fixed spreads which never change – no matter how volatile markets are. We offer conditions and contract sizes that are accessible to everyone – from novice to experience traders with small minimum contracts and competitive leverage.
Easymarkets review conclusion
Finally, we will end our easymarkets review here; by Summary. The Simply honest about the brokers as their basic philosophy, their business model and innovation code, manifested on: easy, transparent, accessible and friendly. We advice that you try the broker,  remember the choice is yours  visit easymarkets