Blue mind fx review: is blue mind fx safe or scam, can he maintain his promises?. We are hear to help you find out more about blue mind. Therefore, whatever you see here is nothing but the truth.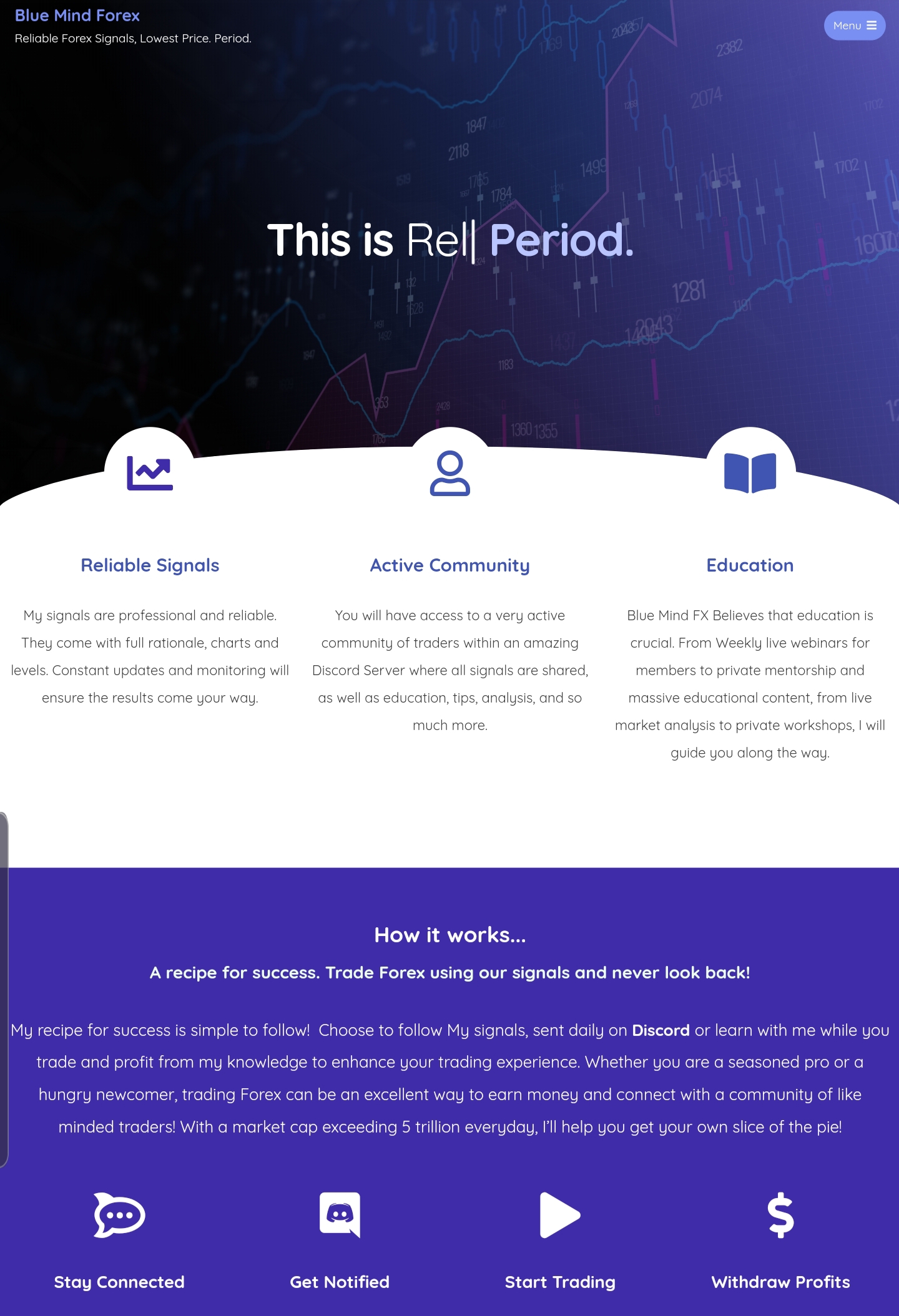 About Richard
Blue mind fx review by  Richard, the owner and CEO of blue mind fx. Today we will write blue mind fx review coupled with description of the forex signals provider by the company.
Blue mind is a forex signals provider owned and managed by a Canadian trader. His is an expert with long term experience in financial market. Put further evidence, he proved to have seen challenges other signals provider is facing and other signal users is experiencing.  But think its better we hear from him.
Very Well, I'll try to be as thorough as possible.
However, I still do believe that the review should come from an impartial third party, and not myself.
Regardless, My name is Richard Lefebvre. I'm 27, I live in Canada and I am the owner of Blue Mind FX.
I've been trading Forex for over 4 years now. I've started like everyone, learning and using signals on the side. I absolutely disliked my experiences with each and every single one of them.
They all felt like they weren't genuinely interested into my well being, profits wise. I felt like I was treated like a number and the only thing they wanted was my subscription money.
One of them even told me once, when I asked why he took a certain trade, that he does not do education but just produce signals. It is clear to me now after my years of experience that this person was simply forwarding signals.
FXK was his name. I've subscribed to several others afterwards and they were all fake, or using horrible strategies with deficient customer service.
Blue mind fx review
I taught myself most of what I know via several hours of YouTube, webinars, and books. My favorite of them and the one I always recommend is "Trading in the zone" By Mark Douglas. This book is an absolute gem and completely built the foundations of my emotional resilience and psychology when it comes to trading.
Furthermore, I created my strategy based on risk management – making sure that my losses (which are inevitable) never outweigh my wins, which are also inevitable.
My strategy is based on Key areas, reversals, and entering upon break of structure. I also do a proper analyze of the economic news and trade them via pending orders. I keep myself informed and I believe every trader should.
It took me years, not gonna lie. 2 Full years of trading and trials and errors (more errors than not, at first) and finally started to find what worked for me, my risk capacity and trading style. Following that, I worked on my psychological aspect of trading.
How bad are losses, the proper balance to have versus my every day needs, etc. Once I managed to have a firm grip on my entire trading strategy from Risk management, emotional resilience, Technical Analysis, Fundamental Analysis and Psychology, I decided to offer my knowledge.
With almost 4 years of experience by that time, I knew what to do and what not to do when it came to both trading and customer service.
Blue mindfx
I don't believe that a full trading strategy can be sent in an email of a few paragraphs. But if I could wrap it, I'd say that I find general directions and trend on higher time frames using parallel channels, trend lines, etc.
Once that is settled, I will enter key areas, support resistance and use price action to figure out "what happens next" via either break or rejection of those key areas.
Simply monitor what happens, wait for a failed retest and voila, you're set. Then, add just a FEW indicators (I don't use many, again, compared to others) such as RSI as confirmation, FIB retracement and 20, 50, 200 EMA's and you're set. I also have a decent strategy on the London Breakout, which I trade very frequently and offer signals for.
Blue mindfx rules
I wanted to create a team where people would be able to benefit from my knowledge as both signals and education. The golden rules were this:
1- Not to charge more than $20 a month. Price was an absolute necessity. I realized, after several weeks of analyzing competitors that their prices were outrageously high. All over $100 USD a month. If not more.
2- Not to compromise the quality of my work. I include charts with every signals I send justifying why I took that trade.
3- Providing decent and consistent results.
I do not profit 1000+ pips per week and I don't imply that I do. Especially considering that the vast majority of those who claim they do manipulate their numbers/don't disclose losses/add TP levels together in order to calculate supplemental pips.
My results average between 250 and 500 net pips a week. I've had only 5 losing weeks this entire year so far.
What Richard will offer
4- Provide the best customer service in the industry. When you sign up to Blue Mind FX. You subscribe to my team and have my entire dedication to every single questions you have. I made sure never to hire an admin or assistant.
I always made sure to provide service and replies myself. There is no third party working for me or for Blue Mind FX – I do everything. Trading, Marketing, Customer Service, Inquiries on social medias, everything. If you ask a question, you have the owner replying. Not a lot can say that.
5- Provide FREE education via my charts I send, via tips and tricks, and weekly free webinars which are entirely live, covering a different topic every week (often selected by the members).
A Private mentorship is also available to those who wish to learn my strategy from start to finish. After studying the market prices for that kind of offer (Everywhere between $1000 and $5000 for "4-5 day courses" which really are 1 hour a day), I decided to release mine for only $400 for the members of my team.
The regular price being $600 My course lasts up to 5 hours where we do screen sharing, full webinar via Zoom, and I take you through everything I know and answer all your questions.
To me, education is crucial and I make sure it is accessible. I spend a full day (or several sittings) with you and we talk forex. Lots of it.
What Blue mindfx try to maintain
6- Transparency – Every single week, I share the results of my trades via a weekly recap pip count. There is no manipulation of numbers. When I say I close my trade at X pips, it is that number you see at the end.
Not what happened in the future like the vast majority does. There is nothing to hide and people know how honest I am and transparent. Every single one of them tell hat to me.
7- Variety – My signals include SEVERAL pairs. All of them except exotics which I trade rarely. I also offer Us30 and BTCUSD signals. All included in that package.
My service also includes a Group Chat where all members exchange together ideas, possible setups, learning material, etc. I obviously participate a lot in this chat.
8- AVAILABILITY – I am always available and I do the customer support myself, 24/7. The only reason I don't reply immediately is because I'm asleep. My team send me charts to review with them all the time, and I do.
Is blue mind fx safe?
Is blue mind fx safe or scam? One thing I like about blue mind signal is the guy is honest with his service. Blue mindfx is truly built to help traders avoid some market errors.  However the company is set with good intentions to help both beginners and advanced trader. Blue mindfx gives their signals at cheaper prices. Is blue mind fx safe… yes visit signal
Blue mindfx finall thought
Finally, in the process of our blue mindfx review,  we asked about his attitude toward customers. And finally he said, being humble. I don't sell the forexlifestyle dream. I don't sell a get rich quick scheme. Every single person who joins my team gets briefed on risk management and what forex really is.
I do not send 20 signals a day, like some do. I send up to 5 a day, sometimes 1, sometimes none, sometimes 5. Up to 5 a day. It all depends on what the market offers as opportunities. If it's not there, I don't trade it.
All this, for $20 a month. I offer very good discounts for members who wish to subscribe for a longer term than a month:
$50 for 3 months, $90 for 6 months, $150 for 1 full year, and $300 for lifetime access.
And I'm here to stay. I only accept PayPal as payment method as it protects both the client and myself. As a last resort, I can accept Skrill (for which I pay the fees, not the client).
I offer very competitive price for an amazing service. I am proud of my service and when I read your review saying I was fake, a scam, and not real, I was upset I'm not gonna lie. I'm hoping your review will be properly amended.