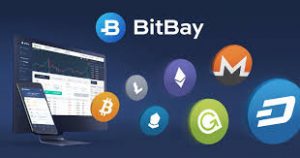 Today, we will be looking into one of the websites that  offer BTC exchange trading platform. In this bitbay.net review We will look into the broker to know if they are legit or scam. There are plenty bitcoin brokers around the world.  But the question is whether they are reliable to trade with.
Bitbay review
Bitbay broker was established in 2014 and has grown to be one of the largest exchange websites in Europe today. Based in Poland and a new office in Amsterdam, the company is spearheaded by their CEO Sylwester Suszek –who is well-versed in the finance world. Bitbay is also active when it comes to charity events, conferences, and education to raise awareness on how huge the crypto-world is today and how people can take advantage of it.
Bitbay is now one of the best cryptocurrency trading platform with over 200 employees. They have grown in number with over 800,000 users. If you trade cryptocurrency and have it will be worth trying Bitbay.
Create account  of with Bitbay broker
Now that we've talked about their background, let's create an account with them. To create an account, head over to their website Bitbay.net and click on the Register tab located on the upper most part of the homepage. Once you have clicked on the register tab, a separate tab will be provided with an option to choose which method you want to go with, but there's only actually one choice and that is to provide an active email.
At this point, we figured that the website doesn't have any problems creating an account anonymously. Once an email has been provided, you will be prompt that they have sent an email confirmation to the given address. The confirmation is fairly fast and should arrive at your mail within seconds of clicking it. Surprisingly, the registration isn't done yet. After clicking on the confirmation email, you will be redirected back to their website with fields that you need to provide. This includes your login, password, and a personal PIN, country of origin and preferred currency.
To go beyond an unconfirmed account, you just need to log into your account and have it verified once all the requirements are submitted. Requirements will include address confirmation, identity confirmation, proof of address file, and ID file to be uploaded to the website for verification purposes.
Features
One of the awesome features that they have would be their BitBay card (MasterCard) in which owners of the card are able to withdraw cash from local ATM's in Poland and abroad. With 10,000 PLD withdrawal limit per day, you will automatically have an outlet to withdraw money from your exchange account. To read more about this awesome feature, please click here.
Trading with Bitbay.net
Now we've come to the most interesting part of the review, which is their trading platform. Our first impression is that the website's trading platform is properly designed and pretty much looks like the usual exchange websites today since the main tabs are located on the left-hand side of the platform. Not shown in the screenshot, but on the upper left-hand side of the candle chart, the market and currencies can be seen.
Here, traders are able to see the pairs against USD, PLN, EUR, and BTC. To name the pairs under USD, we've got BTC, ETH, LSK, GAME, BCC, BTG, LTC, and DASH. For PLN, EUR, and BTC, we've got the same pairs listed.
Shown in the screenshot, to purchase or sell you just need to provide the amount you want to purchase; Then the platform will automatically provide you with how much BTC you will receive after their conversion rate is processed. The latest transactions can be seen on the right-hand side of the platform; With the rate it was a purchase, the amount of BTC of the transaction and when the transaction took place.
Below that is where all your orders will be listed once they have gone through. It would have been better to have a test account but it seems that their website doesn't have this feature. Their exchange platform is really informative and easy to use without any problems; In regards to the website's response ability since there was no delay experienced when we went through it.
Bitbay review on how to Purchase BTC
For people that just simply want to purchase BTC from the website, all you need to do is click the "Wallets" tab found on the main panel located on the left-hand side of the account page. Here users are able to purchase different currencies depending on the available listed currency. This would, of course, include the mentioned currencies earlier in the review.
Bitbay.net review on Fees
Generally, their fees here at Bitbay.net would depend on the monthly volume trade size. The taker fee for the website ranges from 0.25 to 0.43%; And the maker fee runs around 0.17 up to 0.30% per transaction. You can read more about the complete list of fee schedules here.
Deposit and Withdrawals
The website accepts BTC or their available cryptocurrency deposits. What's even better is that they also accept Fiat deposits for their Fiat currencies namely USD, PLN, and EUR. Options include Wire Transfer for USD and EUR. For PLN, we've got Poczta Polska and Zabka and of course, Wire Transfer.
There are no charges for cryptocurrency deposits and USD/EUR wire transfers this also includes PLN wire transfers. The only charge for deposits would be for the other options for Polish deposit options; And is 2% of the deposit value plus store charge for Zabka.
Bitbay review  conclusion
Finally we will conclude our Bitbay.net review by telling you invest and start trading. The broker is reliable and safe, Bitbay broker is as well regulated. Trading with Bitbay broker wil be advantage, however  you can gain $10 for signing up. Bitbay.net review is just a clue of the company, learn more about the broker